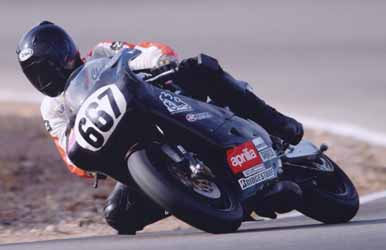 yaay, new action pic!

Racing = more punishment!

And the Break-O-Rama continues… A lot of work, time, and money went into the preparations for October. I got back the repaired cylinder from September and also bought a new crankshaft to go along with the new top end. Kevin Murray of MCE Racing trued the new Aprilia crankshaft to 1/10 of .001". The spec from Aprilia is .001" and my new crank was .003" out. This weekend was the big "Toyota 200" race weekend, so the schedule is somewhat different from our normal WSMC race weekend. Friday was the only practice day, Saturday was now what we normally consider "Sunday racing", and then on Sunday were the novice races, the Roadracing World 250/50, and then the main event, the Toyota 200. This event also celebrated Willow Springs International Raceway's 50th anniversary.

The Roadracing World 250/50 featured 250cc 2 stroke Grand Prix bikes running a 50 mile race, with a $30,000 payout schedule. The grid was limited to 40 riders with two heat races. The Toyota 200 has an astronomical $150,000 payout, with the winner making $50,000, then $30,000 for 2nd, and $10,000 for 3rd; even the last place racer getting a $1,000 payout for their race. Timed qualifying in September and October determines the grid of 40 riders.

Anyhow, we show up to the track Thursday afternoon to claim our pit area and are surprised how few other racers are there setting up. Basically, it was Rich Oliver and the whole of turn 1 was empty! Friday, I felt like heck in the morning, so I arrived around 9am. Unfortunately, there were 3 practice sessions for WSMC racers and then due to the T200 qualifying, the next session I was eligible for was some 3 hours later. So I get ready and then head out and it was almost like last month: going into turn 3 on the out lap, something went wrong with the fresh motor! Only it wasn't quite as bad. I jumped off the track and headed to the interior pit road and while coasting downhill, I noted that dumping the clutch in 2nd or 3rd didn't lock and slide the rear wheel. So I got the bike going again and then pulled out onto the track in turn 1 during a long break in traffic. OH! Speaking of traffic: it was pretty bad out there. Friday wasn't a normal WSMC practice day, instead, we were lumped into a weird arrangement where we were in a 1:30 and slower combined session with like 50 bikes on track. It was mayhem. No one was getting clean laps. I got a lot of practice passing, though! J

I get in to the pits and my bike is REAL noisy. I pulled the plugs and look into the cylinders with this flex light and I see vertical streaks in the new cylinder and some of its Nik-a-Sil chrome coating coming off.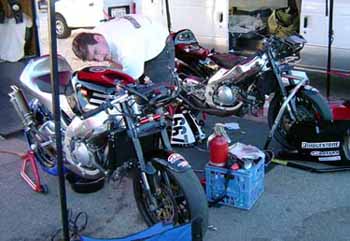 Greaaaat. I try to save some $$ and replate my cylinders. Now the same one has failed two months in a row. Time to get a new one from www.mototek.com for sure.
Zina was working the mornings in the hotel updating www.ducati.com/racing as it was a MotoGP AND World Superbike race weekend. She comes in later and gets permission to run in the Street A group. This was surely much safer than plodding around in the axe-murder-fest that was the "WSMC Licensed Racer" practice. We went with our normal plan of her riding through her practice, then I steal her bike for the rest of the weekend. We worked until after dark converting her bike over for my setup with the QD brake setup and my bodywork.
I got a great night's sleep Friday night, even though we couldn't believe that there were TWO MORE NIGHTS to go!! Saturday, I went out in the 2nd 0-500 lightweight practice warm up and immediately did some 1:32s. I was absolutely satisfied with that, so I skipped the 250/50 practice session that followed the WSMC practices. I also skipped the 550 Superbike race, as Zina's RS250 is overdue for new pistons and I want to limit the abuse on her machine. The main focus of this weekend is to maintain my advantage in the Aprilia Challenge class. I entered October's round with a 38 point advantage on the 2nd place racer in the class. So long as I left this month with 31 or more points advantage (finishing 4th or better), I clinch the championship!
About 10 minutes before the Aprilia race, I've got my leathers on, the tire warmers have been baking the Bridgestones for a while, and Zina's RS is warmed up. I'm squatting next to the bike looking it over and stretching when I notice a crack in the alternator/timing cover! F-ck! When is this spate of bad luck going to end? This makes for 5 parts failures in 4 months. The crack isn't bad enough to really scare me, so I get ready for the Aprilia race and head out after 2nd call...
Out on the track, Zina's bike again feels great on the warm up lap. It felt as strange as every other time this year that I arrive to the number 1 painted on the track for my race. I concentrate on starter Craig Hubert and focus on the throttle and clutch. I get a great start upon his throwing the green flag and am first into turn 1. First and second gears go quick then the rush slows as I click up into 3rd. 4th becomes exciting, however, as I shift into 4th right about the time to turn into the first corner. I focus on my apex and my nerves (and trust in my Bandit tire warmers) let me keep the throttle on the stop through the turn and I drift out to the cone on the exit to maximize drive. I keep on my pace and put in what I think is an excellent lap. On the second lap, I didn't get turned in time for 5. I think the soft Zina springs compressed and I chattered due to not letting off the brakes quickly enough. I ended up chattering across the apex and went out into the marbles. Thankfully, I was able to keep the throttle pinned during the entertainment. I forget when or where, but Ruben (#2 in the class) passed me on the second lap. I think because Zina's bike felt particularly nimble this month, I was able to pass Ruben where I would never think of or dare to before and I worked this insane outside pass on him going into turn 3. I was careful to leave a wide sidewalk for him on the apex in the case that he was too late seeing me and is unable to slow in time.
I kept the throttle on the stop for that lap and hit my apexes perfectly. I got a great drive out of turn 9 and then Ruben zapped me on the front straight. I think, "Hmmm, that's no good, he'd still get me at the stripe!" Ruben is nice to me going into turn 3 in that he left a little room for me on the outside. I noticed he went in a little deeper, but something about the bike, tires, and track this month made turn 3 the property of Zina's bike and I. I passed him again. But this time, he motored me before even turn 8! Crap. I set up turn 9 so that I would arrive on his tail perfectly at the exit while still on the throttle stop. But I didn't feel anything of a draft and he kinda motored off. On this lap, I wasn't close enough to make anything happen on Ruben, though I did pull almost alongside in 7. I ended up having to back off, as my bars weren't even up to his fuel tank. No way he'd see me and I don't want to collide, so I back down and pull in behind. Zina's poor, overly abused pistons and rings didn't have enough steam for me to even hail mary dive bomb under Ruben going into 9, so I set him up for the best possible draft on the exit. Still didn't feel anything, but I was able to close back up on him by the end of turn 1. This lap, I again put on the insane outside pass in turn 3. This one was pretty late but I still pulled it off. It would probably be for nothing, but I cannot beat Ruben simply by staying behind him! He did get by again in 8. And then coming out of 9, Michael Pastore got by me, too! So I'm third after a hard fought and very fun race! After the race, Ruben and I talked. Thankfully, he thought my passes were ok and thought the last one was great because it was so late that he thought it wasn't happening and then suddenly saw my knee and elbow! On-bike video for these races would be a blast!
I was planning on doing the normal WSMC "Roadracing World 250GP" race, which is totally unrelated to the Roadracing World 250/50 on this weekend, but with that alternator cover being cracked, I spent the time removing it to inspect what's going on in there. I fully expected to see that some chunk of metal or rock went around in there and beat everything up. Nope. All was normal save for the crack. I took the alternator cover from my bike so that the rest of the weekend would be as safe as possible and also set about changing over to my Marchesini wheels and single rotor braking setup. The trick parts aren't legal for the Aprilia Challenge class, but are for 250GP, 250 Superbike, and Solo GT Lights. I got this done well in time for the 250/50 heat race 1.
There were two 5 lap heat races to determine gridding for the 250/50 main event. If there were more than 40 entrants, this would also eliminate the extra entrants. There were 33 entrants for this year's event. I was on the front row for this event, since I've got so many points in the regular WSMC class. My Aprilia RS250 has a really low first gear, so I got a hell of a jump on everyone. I was the first rider for like 100 yards. Then I got zoomed by the faster riders when we got to the stands before turn 1. The heat race was late in the day. This combined with the fastest riders' leather knee pucks made for quite the apocalyptic ride into turn 2. It really looked like someone's bike blew up! Someone passed me on the exit of 2, but I think my position was mostly sorted out by the time we all got to turn 3. I rode around the five laps very hard. Oh yeah… Robin Clark zapped me coming out of turn 9 on the last lap. :-) We had talked about it and he pretty much said that's what he'd do. He doesn't run WSMC too often, so it was good to see him back out.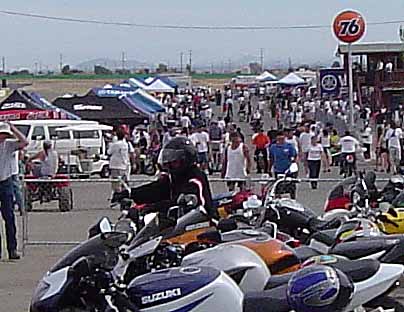 After another good night's sleep, Sunday started out real well. I went into the 250/50 practice session. I put in 4 or 5 laps and then things got hectic. I had a great run of laps and decided to pull in and save the racing for the actual race and conserve my tires. I passed the next couple hours waiting for the noon start by cleaning the bike, topping off the oil and gas, and the ever present BSing with pit neighbors and friends. The time for racing came and I was absolutely at ease. No worries, no pressure. We got out to the grid, a swarm of angry pollution-generating two stroke racing bikes and then "they" choose this time to have the National Anthem to play. I'm not sure why they chose to do this now as opposed to the normal time after the riders' meeting, but I do not think that tires cooling from sitting around off of their warmers or operating temperatures of said racing machines getting into the 80s centrigrade. Hopefully the next event won't have this curious timing for the anthem.
We held our hands over our hearts while blipping the throttle (well, not me, I turned off my bike and stuck out the kickstart lever!) and then got out on the warm-up lap. It went well as they normally do for me. I was gridded 17th, which is on the 5th row. This actually concerned me a bit, as my bike really launches hard compared to the 250GP bikes. Craig Hubert got us going relatively quickly and I must have immediately passed 2 rows! No worries, I got to third gear and they passed me back. :-) We streamed into the first 4 turns 3 or 4 wide. I'm pretty stunned that there weren't some crashing, as in each turn, one or two people would absolutely blow the turn and plow sideways through the pack. It was dumbfounding to watch. I passed a few folks, but it was mostly processional for the first lap. Once things got going, the running order seemed to sort out reasonably well. Going into turn 9 the first time, I noticed there was a really strong draft and I had to actually brake to avoid rear ending the guy in front of me.
It was better on the second lap and I made better sense of how to feel out the draft. Then, I think on the 3rd lap, I got into 9 pretty well, but once coming off the apex, the front totally lost traction. I think it bottomed and chattered for 6 or 8 feet. It was somewhat disconcerting and absolutely ruined my drive on the exit. This is when I saw #333 rip by. That would be Robin again. I think it was this lap, too, that going into turn 1, I noticed bike or bikes show up to my inside. I immediately let off the brakes and pinned the throttle and made for the turn. I apexed away from the curbing, but this told me that I can't slouch. It was about now that I noticed the two TZs ahead of me. The white TZ seemed to be holding up the blue one and as I caught up to them, I was catching the draft here or there. The next several laps, this odd game played out. The white one would hold us up in turns 3, 4, 5, and 9. So I started butting my head in. I introduced myself in turn 9. The blue TZ setup on the outside of the white one on the entrance to 9, but the white TZ was going in too late and ruining his entrance speed, so I just ran up the inside. Getting along the front straight, the white TZ ripped by. Curiously, the blue one waited until past the start-finish line to pass me.
Then we'd park behind white TZ in 1. I can't recall if the blue one passed the white TZ once or twice, but then I set up and passed the blue TZ in turn 5. Then I used some tactic and held a real tight line on the exit, forcing the TZ to sacrifice some drive. I was hoping for a hint of a tow along 6 and 7. And that's what I got. Then we caught the white TZ in 9 and I repeated the same pass in 9. They repeated their pass, too. In this, the blue TZ was able to pull a little on the white one, so now I was left to mess with the white TZ. I did my turn 5 move on him now, which allowed the blue TZ to get away a little more cleanly. Surprisingly, the white TZ didn't pass me until the front straight. Now, I was able to catch them in turn 1, where I made a pass on the outside. They peeled off to the inside and slowed. I think they broke something, as I later saw the same bike making its way to reenter the track.
The crossed flags (indicating halfway - 10 laps) were shown during this battle and now I was left somewhat alone for the last part of the race. Only now, I saw some bikes were coming back to me. Apparently, a couple of the riders that got ahead earlier on had their tires go off somewhat and were coming back to me. One I caught and passed. The other I kept reeling in. Closer and closer. I knew it would be close for the end of the race. As I really started to sniff something on him coming out of turn 9, I saw that Craig Hubert had the white flag out! Oh man, I've got to do it this lap! I went really well through turn 1 and essentially caught Joel. He's been doing some great times lately and is on his new bike, so he's wearing a target. :-) Anyhow, I'm on him in turn 2 and set up for the draft on the exit of the turn and then was able to make the pass into turn 3. I got around the Omega as well as possible. I thought for sure he'd zap me going into turn 8, but he didn't. I went huge in turn 9, driving to the edge of the track then stayed out along the white stripe leading up to the start-finish line to try to minimize any possible draft. With Craig waving the checkered flag only just ahead, I saw Joel far off to the right motoring by! Awwww man! As it turned out, he was 19th and I was 20th! Not shabby considering this race was at LEAST the equivalent of an AMA national! Well, it was 2 laps longer…
Upon pulling in, I was basically treated to a hero's welcome. All my friends and people that know me seemed to be along the pit road and came out to congratulate me! It was so cool. Oh, and all the spectators! It really was like an AMA national. Afterwards, I spent an hour or three sucking down my fluids to fight off the impending heat exhaustion. I'm not sure if it was that or the 2 stroke premix, but I felt kind of nauseous. That or I was starving. I walked our dogs, secured up the pit somewhat, and headed off to BS with folks and get some grub. I ran into a lot of fellow racers that were out at Willow in 2001 or 2002 and had stopped racing for whatever reason. It was great to get caught up with everyone. I think this is one of the best aspects of the Toyota 200 race weekend: bringing out a lot of folks who like Willow but need that little excuse to get out to the track.
I watched the waning laps of the big race as Rich Oliver did a 1:19 lap (the fastest of the race?) on his TZ250. This was near lap 63 of 80! Wow! It was a great race and the event as a whole was really neat. And Zina's favorite part? Sizzler at Lake Elsinore.
Now, off to rebuild a couple of Aprilias. Again...
Postscript:
Once at home, I realized that the new cylinder I fitted was again slightly undersized, explaining my seizure. I'm going to retire that cylinder and use a different one from my spares.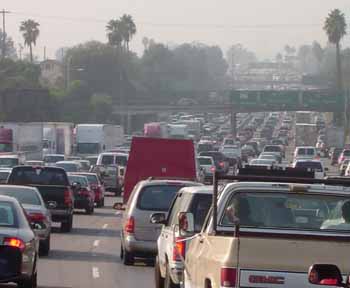 On Friday the 24th, Zina and I drove up to helLA to make a "milk run" and pick up a couple of bikes. One is her first ever bike, a Yamaha Radian that she gave to her friend who's now giving it back. But more importantly (to me) is that we stopped by Timmmmmaaaaaah's place. Tim graciously offered to loan me his TZ250!! So I'll do a little prep work to his slender and trick machine and give it a try!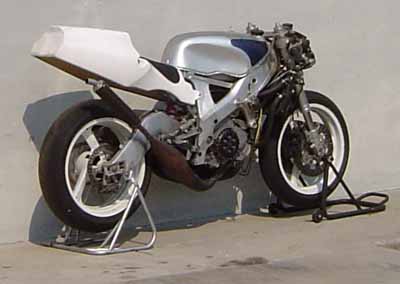 =)