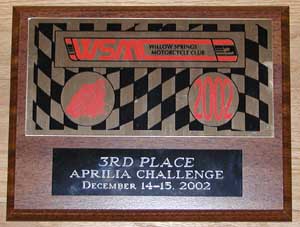 This month's racing didn't exactly start off the best way… with us having to go to Vegas to handle family matters. I kinda rushed to get the bikes ready and we left the trailer sitting at the track from Tuesday through Friday as we went on to be with my mom. We had a good visit all things considered and then got to the track Friday morning around 11am. This Friday the 13th was WSMC's first time promoting Friday practice days. There were 4 groups: Street A & B and WSMC Racer A & B. Race A is for 1:30 and faster with Race B for the rest of us. =-)
Anyhow, great to have our Club running Fridays as I think they're the absolute safest track day promoter / sanctioning body there is. No matter how safe they are, it was much cooler than last month and somewhat breezy. We were blessed with a very good weather the last 2 months, so a little "wintery" weather now isn't so bad. Zina and I got in 3 good rounds of practice. We planned on using up some Friday passes this month so we could be slackers, showing up late Friday and Saturday and not have to ride in the super cold early morning sessions. There were a total of 7 rotations Friday. We could have gotten in 4 but they were headed out as we were tech'ing. A couple times, we got to play with John Ulrich on his TZ250. I guess he tired of the hard work required to make time on an Aprilia RS250. Overall, there was hardly anyone riding Friday. The conditions were pretty good, with the breeze not being over bearing, the temp not actually cold, and hardly anyone on the track. Friday night, we ate with StuMan, Stuart, and Kevin Jump at Marie Calendar's. Pretty yum food and hellishly large deserts!
We got to sleep early and slept late, enjoying our "slacker" practice weekend. We arrived at the track and began the usual winter morning routine: warm up the bikes, tech the bikes, and got the tires pressures adjusted, tire warmers on and running, leathers on, warm up the bikes, go out and practice. The "breeze" Saturday was worse than Friday, ensuring we were working hard for average lap times. Oh, and never mind the sprinkles on the windshield as we pulled into track. While it was trying to rain, it never actually managed to make the track wet. I was glad to still turn respectable times and also that my new technique of hanging off (trying to fall off to the inside) really helped in turn 1 when it's windy. I started really watching my rear tire. It felt great, but looked like it was getting torn up, so I raised its pressure 1 psi. That seemed to help wear and rip didn't suffer, so I raised it up another 1 psi to match the front. Again, grip didn't suffer and the tire didn't seem to deteriorate, so I left it there. At the end of the day, the tire looked kind of shagged, so I took it down to Jerry and Co at Ca Race Services to flip it in preparation for shagging on Sunday. Zina's rear Pirelli 160 super corsa soft was really liking the extra 1 psi I added to it. Her tire hardly looked worn at all. Perhaps the answer to some of our premature tire wear could be solved with more pressure out back? I'd be happy to find that, as I'm starting to tire of buying new rubber every month.
Interesting highlight: The "Tul-aris" was out at Willow this weekend. It was out Friday and Saturday. Michael Hannas was riding it in preparation for racing the main event Sunday, the Toyota Formula 1 race. That thing is trick and wicked sounding. I think they were having some problems with it, as I don't recall seeing it during the Toyota Formula 1 race.
Saturday nite, we went to eat at "the Chinese place" and discovered an outstanding value for feed. They've got this "Dinner A" deal, which feeds 2 people. It looks like the typical deal where it comes with soup, a couple of appetizers, and your choice of one of the meals. All for $13.99. After ordering it, the waitress grabs the menus and goes to take off, so we ask about the meal choice and she said, no you get all. Everything in the Dinner A box. WOW! That's pretty dang cool. We also found out how good their wonton soup is. A value added bonus is that we got the food super quick. I was pretty stoked. She got a nice tip, aided by never letting my Sprite empty.
Sunday dawned a new day. There were hardly any clouds in sight, but the breeze started strong and early. We could have made 1st practice, but we decided to just save it for the 2nd practice. I found out that one of our Aprilia racers broke his foot motocrossing last weekend! So Ryan put on his boot with some duct tape and went out anyway. Hard man!! We headed out to the 2nd warmup with tires and engines warmed up. Craig gave us the signal and we all pulled out. It sure seemed like folks were getting sporty and then someone was lowsiding before Turn 3. It was Ruben! Suck, this is his first race weekend!
We pulled around and got back out on course. I was just kind of feeling my way around, not in the usual "work / hurry" that I am in practice. Ended up kind of dicing with broke-foot Ryan. I could tell that his right foot was screwing with him, as he was slow in 2 when he isn't normally. This fact was confirmed after the race. This really confirms what you read in Roadracing World when a press release says that someone's times are affected a little by the rider's ankle, hand, etc being beat up. Then I stopped by Ruben's pit. He was running Michelins and the rear let go before he even really started the turn. Plus, he said that he was really crawling. Huh. His bike got off really well, with only minor scuffing to his new paint (have to remove the gravity enhancing shine), a broken windscreen, ground down peg, and bent clip-on. Honestly, the bike was passably rideable as it was. Tim Knutson loaned him a Zero Gravity windscreen, I got him a new Woodcraft peg, and he had a spare clip on tube, so he was well sorted for his first ever novice race.
The riders' meeting came and went. They announced that WSMC is organizing the Friday practices and the really good prices of $100, 120, 130, and 150, for WSMC member pre-enter, post enter, Street pre-enter and post enter. Really economical. Kenny also announced that WSMC would honor all current Fasttrack Friday practice coupons… and that they'd honor them for Friday, Saturday, or even the special practice day on Sat the 28th. He then went on to announce the 5 or 10 Friday give-away winners. The orientation school for track first timers is only $50, too. I'm pretty excited about WSMC's Fridays, and with WSMC honoring Friday "coupons" for the less costly Saturday practice really makes the coupons more valuable, as many folks cannot take advantage of the Friday.
After the National Anthem, I started getting ready for my first race, race #4, Bakersfield Yamaha 250 Grand Prix. Sometimes, I as ask myself why I subject myself to the abuse of racing against massively superior bikes, but I keep on doing it. This month, it worked out OK, as the Pro Italia Aprilia Challenge race was #6 and 250 GP made for a great work up. We all got our start after Craig Hubert did his trademark starter dance. I was 4th or 5th into turn 1. Kind of the same in 2, but I kept one of the 250GP riders honest by going up underneath him in the middle of turn 2. Then he reminded me that I'm Aprilia scum by closing down on me. I didn't really plan on it, so after I chopped the gas off, a 125 guy got by me. Then later on, another 125 guy got by me, then the first 125 guy and then the slow-ish 250 guy. I kept the gas on and started closing on the 2 bikes in front of me. I got the 125 guy then really tried on the 250 guy with the surprisingly low number just ahead of me. Ultimately, we were matched and I wasn't able to get him.
I got back to the pits and had a couple minutes for tire warming before the Aprilia Challenge race. I was excited and ready coming off the 250GP race. I had a good feeling for how the "breeze" was working out and the tires were gripping well. 1st call and we're geared up and the bikes warming up (after sitting only a few minutes, mine was down to 40 deg C from 60 deg C). Then 2nd call and we go through our pit crew pre-race drill: I turn off the power strips for both bikes' tire warmers. Zina goes and kills the generator while I start removing the front warmers and stands from the bikes. Then Zina gets her rear warmer while starting to hang the warmers so they don't melt. She or I will get the rear warmer from my bike, then she gets on her bike and starts it. I drop her off the rear stand then go to my bike to lower it from the rear stand then mount and start up. By doing all this upon 2nd call, final call is usually made as we're nearing the "pit out" opening. Perfect timing.
I was gridded 2nd and got a great start. I was more or less even with Tim K and then JJ got by both of us while we were going into turn 1. I became Tim's shadow. I was a little surprised to be hanging with him, so I just stayed there and checked things out as we'd never really ridden together before. It was quite odd to go into turn 9 at half throttle to keep from ramming him. On the 2nd lap, he turned around at the exit of turn 1. I was close enough to almost reach out and touch his bike, so he got an eye full. =-) We got around again pretty well matched then in turn 5, something happened and my bike kinda sputtered and stumbled for a second instead of moving along. This part is crucial to any speed through 7, 8, and 9 and I lost Tim's draft. He opened up some time on me, which I worked on holding the rest of the race. The wind was really sapping power from our bikes and I think my "large white man" features put me at more serious disadvantage. So I happily took third place (check out the cool plaque!) which means that I got enough points to earn 2nd in the 2002 class championship! Third last year and 2nd this year!!
Back in the pits and Zina disappeared to go scoring for WSMC again, while I started futzing around the pits to get ready for our next race. I had to time when to put the bikes on the warmers and also work on warming up the engines. This was done several times, as I preferred to keep some heat in them all the time, rather than risk not starting soon enough and worry about hitting the pregrid with not enough heat in the radiators. During this time, some visitors came by… bike nut TJ showed up as well as Sui the TasteOfOrange guy, and WSMC racer Akos (AJ). AJ had to take a racing hiatus to concentrate on his post-grad studies and really misses it out on the track. Keep them priorities, AJ…
Zina came back to the pits in time for us to make the Wood Ease Hand Cleaners 550 Superbike race no problem. We warmed up the bikes, did the tire warmer shuffle, and headed out. A lot of interesting things came about for this race. Insanely fast guy Zoran showed up with his and another SV650. Scott Cleff came back to see how his rusty self is doing and Steve Moonitz needed a few places on Tim K to win the class championship. Zoran loaned his SV to Rick Spampinato (sp?) so he could try to get more WSMC overall points to aid his place in the top 10 for the year. Well, the race started and basically all the SVs hauled ass to the front. Tim K and I were there and JJ worked his way up there, too. I passed one of the SV posse in turn 3 and thought, well, I bet he'll just slam down on the apex in turn 4 even though I'm there. Just on time, he sawed off my front tire, but I was expecting it and didn't have to check up. I just told myself I'd return the favor in 9 if he wasn't able to get away. I found out later that this is the same guy that was holding everyone up in a previous race. Well, either the wind kept me away from him or he figured out how to go fast in the turns, because he was pretty much gone after that. Finished 3rd, no less. After he took off, I was tagging along and noticed that Steve Moonitz, Tim K and 2 SVs were coming back to me. Eventually, things sorted out to Steve, then the 2 SVs, then Tim K, and me trying to catch up. With the aid of the SV giving Tim the draft, there was no way I could catch them. I was trying and trying, but he stayed in the SV shadow and just out of my reach. I finished 3rd non-SV in the race. Too bad the 5 SVs in front of me made the result 8th. What's interesting is that all the FZR400s disappeared from the class. Well, and the EX500s, too. Found out afterwards that our man Scott Cleff won it!
After the race, I watched Jack Pfeifer, Vincent Haskovec, and Chuck Graves battle in the Toyota F1 race for a few laps then I got a tri tip sandwich. I ate half and took the other half out to Zina on the start/finish line. It's funny how the scoring gals think it's funny how I bring her a tri tip. After this, I worked in our pits to pack up and told Ruben to bring his bike over before his 0-500 novice race so we could run tire warmers on his bike and build some confidence after the morning's cold tire spill. He showed up and this helped pass the time towards the end of the day. I spoiled him by being pit crew … and thanks to #224 for loaning us his front stand for use on Ruben's bike. Aprilia RS250s have this air deflector under the lower triple clamp that doesn't allow access to the steering tube. We cut a hole in the ones on our bikes to allow the Woodcraft front stands we like so much. I went out to watch him race… Ruben was 6th, then 5th. Then the racer just ahead of him crashed in turn 1 and Ruben was 4th. Meanwhile, the guy that was 2nd on a GS500 got passed by a 125 and then Ruben started stalking him. Ruben closed 2 seconds on this guy in one lap and passed him in turn 7 on the last lap for third! Ruben's first ever race and he got wood!!! Woo hoo!
After the day was done, we took the doggies in the track infield to lay some fertilizer and scrub off excess energy for the drive home. Then something really odd happened. Scott drove home the same direction we went! First time ever after a race weekend, so we all had good eats at the yummy Sizzler on the way home.
I rode with passion - this month and for the year. Our consistency and hard work was rewarded with 2nd place in the Pro Italia Aprilia Challenge class and in Solo GT Light, 7th place in Wood Ease Hand Cleaner 550 Superbike, and 24th overall with WSMC. Thanks to Zina, our sponsors, and to WSMC for a great program!
=)