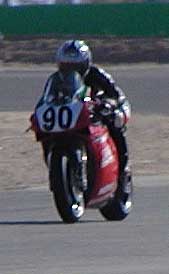 November was all about Zina test riding a World Superbike Ducati 998RS. We did that on FastTrack Friday. I won't go on too much about it since she's going to write an article about it herself. BUT that was hugely cool for both of us. She's probably the first woman ever to ride a Ducati Superbike and maybe the first to ever test ride a true world level Superbike! I got to help start it. It was pretty cool to hold the lawnmover engine thingy to the 998RS's rear wheel. Yes, I am jealous of Zina, but we all are, so it's OK. =)
I originally was going to also ride on Friday but am now glad that I didn't. I was very spent Friday night and almost felt sick. Saturday was another day and I felt better. We skipped the first session as we are wont to do. When I did get out, my riding was pretty well inspired and my times were nearly as good as last month's new best time! A "new" guy showed up at Willow with two Aprilias and a big team, tents, and all that. He hasn't really ridden the track too much, normally riding in the axe-murder-fest that is AFM with its 125 rider fields. Turns out that he's just a touch faster than I am and is a really nice guy, to boot. It's much easier to narrowly get beat by someone you like as opposed to a bitter rival, etc. Oh wait, I'm already talking about racing! Anyhow, riding together, we pulled my times down into the 1:31s! My best ever on the RS250 and equal to my best on my 916! I got in a good 4 or 5 practice sessions and then called the day a little early so as to flip my rear tire. It was new at the start of the weekend, but it was again unusually hot (almost 80 deg F midday in November!) and I was worried about the softer winter tires lasting.
And how about that lap time! Gradual improvements are happening and I'm happy about that! My form is getting better, I've got great control of my bike, and things are feeling good. I'm starting to really hang off in the turns and the action shot shows it! It's really all about practice making perfect. Well, practice making better anyway. As your true comfort level gets better, then when you try and step up, that's better still. I saw Devin, the track camera guy, laying in turn 9 when I was really going well through there. I knew it was going to be a great shot.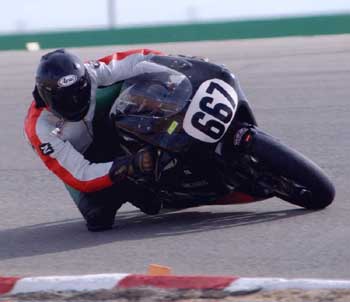 We packed up Saturday and ate dinner at our secret Podium Diner. Even though Brian the new guy was fast, I had a good feeling about Sunday's races. There is one great thing about winter: because it's dark so early, we get to sleep usually around 9:30, making for a full night's rest. Up early Sunday and we're in to the track in time to make first warmup. I thought about it but decided to to run the second warmup only. With the warmers on, the tires and the track felt great. We pulled off and sat around for the riders meeting. After that, we went back and ran the generator and warmers for race #2, Wood Ease Hand Cleaners 550 Superbike. This race is typically a real axe murderer fest. It's a real SV fest, with how some will balk us in the turns then run away on the straights with their 85~95 horsepower. Everyone got off the line real well and I couldn't really say what place I was in going into 1, but it was 5th or 6th or so. I was getting along pretty well when going into 3, a bike came from the inside across my front tire as I was transitioning into 4 and as soon as they arrived, they highsided right across my front tire! F*ck me! As soon as I realized I wasn't being actually taken out, I was very thankful for him highsiding in front of me and not into me.
As it happened, I saw that it was Ryan, the RS250 rider that I've been chasing of late. We've both been improving, but lately, I've been catching up. Man, I couldn't believe it ... I was going up into 4 and looked up and saw Ryan's legs in the sky and his bike flying up the turn 4 embankment at a 45 degree angle, also in the sky. We get through there around 70 mph, so he was really flying. I didn't have to check up too much and kept on going. Eventually, Brian the new RS250 guy got by me. And then that Silver SV from last month, too. Ugh, I'm riding my ass off and I'm still everyone's bitch! I got in a few good dices with Brian, but really wasn't able to make anything stick anywhere. He rides real smooth and just doesn't slow down enough anywhere for me to pass him. So I finished the race 8th and I did another 1:31. So I rode faster than I did last month and finished worse! 550 Superbike is shaping up to be a very competitive class! There's still something wrong with 90 HP SV650s racing against us... =) ... geez, they aren't even allowed in lightweight practice!
While in the break between 550 Superbike and Pro Italia's Aprilia Challenge, a classmate from college showed up. That was great to have an old friend come and spectate!!! Then it was time for the Aprilia race. Zina showed up just in time to get ready and we were off to the grid. We did the warm up lap and I was gridded 2nd. I got an OK start, but not good enough, as I should have been right with Tim Knutson. Anyhow, he kinda swerved over, which caught me unawares, so I had to drop off the throttle, which put me a few bikes behind everyone else going into turn 1. I went into 1 5th. It was Tim, the new Libasci kid, Ryan, and Brian the new guy in front of me. They were all over each other everywhere and I was a few bikes back from them. They were tripping all over each other on the first lap and I was starting to close. Then going into 5, I saw Ryan lowsiding in 5 and Brian the new guy waaaay out at the edge of the track. I kept the throttle pinned, hoping to keep the advantage over Brian. Head down and bum up, I forget when, but Brian made a good gentle pass on me somewhere. Rats. Then I got him back. Going through 2, I saw that his speed wasn't as good as it could be and I set up a killer drive for the exit.
I swung out wide in the last half of turn 2 and pinned the throttle to its stop while hanging off even more. I started closing on Brian's bright yellow RS250. On the exit of the turn, I crept up into his draft and my bike lept forward towards his. Before colliding, I veered on to the left, finishing off the turn out to the outer third of the track. I was side by side as we approached the middle of the 2 –3 chute and fully ahead as we entered turn 3. I worked on keeping a good pace and got through with that lap ahead of him. Then he used my draft on me on the long front straight and pulled alongside of me going into turn one. Unfortunately, I'm more comfortable going easier into one than most people, so he won that little battle, but I was right on him on the exit. He did better through 2 and I was only just able to pull alongside into 3, but not enough to pass. So I decided to try and just stick to him until the end to see if I could work something on him in the final corners. On the penultimate lap, I tried to test out the draft out of 9, but I just wasn't close enough. Dang. I realized that I'm not really able to alter my line well enough to stick on him at the exit. I tried again on the last lap and was closer than before but I finished a couple bike lengths behind him. He took my wood. I'll have to do better when he comes back!
Zina and I pulled into the pits after the race... she ran off to score more races and I sat around for a few minutes talking to Susan and Eric (college friend and her man) and then I headed out for the Bakersfield Yamaha 250GP race. This class is for true Grand Prix 250 2 strokes. It's a good thing, as there are only 2 other classes these bikes can run in: Formula 2 and Formula 40. Well, most folks can't compete in Formula 40, as they're not 39 years of age plus some additional number of years. The point? Real 250 GP bikes weigh 50 or 60 pounds less than our Aprilias and also make another 20 horsepower. So I enter this race expecting to get my ass handed to me. That's OK, as it's fun to mix it up with the real bikes. Fun until your tires go off, that is! I got a great start and was 5th going into turn 1! I kept on it until the 3rd lap, when I went into turn one like I always do. Only I didn't come out like I always do. The bike just wouldn't turn. I ran off my chosen line and had to let off the gas and work to stay on the pavement. I looked over to the left and saw Brian zip by on the bumblebee RS250. Huh. We get to play again. So I worked on getting back towards him, but I couldn't really push too hard as my bike started squirming around. Then a 250GP bike passed me. Later on, a 125 passed me. It sucks when they do that, but its inevitable. Then another passed me to try and keep up with his friend. They both passed the 250 GP bike AND Brian. Then the 250 GP bike passed Brian and it was just us 2 Aprilias riding around. But there were some folks that we managed to beat to the checkered flag, so we did well.
Back in the pits and I told my guests / fans, Susan and Eric, some cool things to see or do, like get the tri-tip sandwich and watch the Toyota Cup Formula 1 race. Then I took care of a bunch of stuff... start getting packed, return the loaner front stand to Kelly Baker, get me some tri-tip, go out to the start finish line to give Zina some, etc. By the time I got back to the pits, Susan and Eric were totally gone. Sorry for not being more entertaining, guys!! Then it was time for the trailer packing and BSing. After the day's events were done, we took the doggies out for a walk on the track. It's fun to walk around the infield, which is quite large. As the sun set, we pulled out after a little more BSing with a future WSMC Aprilia RS250 racer. We got down to Lake Elsinore for the true highlight of each and every race weekend for Zina: the Sizzler.
=)