October at Willow Springs was interesting and fun with perfect, if not overly warm, weather. This month's racing rolled around with almost no preparation drama.
I say almost because as I was installing the front wheel with the new tire a few weeks ago, the fork lower broke! Yeah, the metal of the fork lower behind the axle pinch bolt simply cracked! It's an M8 screw for the pinch, so I was using like 15 ft-lb on it. Well, the fork lower has an aesthetic design incorporating contours and there is actually little metal there. The manual calls for like 10 N-m, which is 88 in-lb. I cannibalized the left lower from our "spare" bike that we'll sell soon and got mine back together. And then immediately loosened and retorqued the pinch bolts on Zina's bike! The new $325 lower for the "spare" bike is already on order.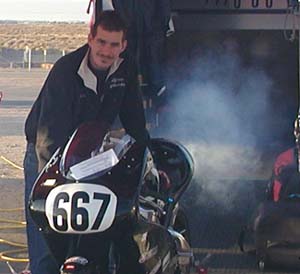 We got in to the track and set up Friday around 4 pm. Got some food and stayed at the unusually-full Desert Inn. Saturday dawned chilly, bringing the generator and tire warmers out. Check out the environmentally friendly (not) 2 stroke warming up. We had absolutely no grip issues but as the day wore on and got warmer, my rear tire was suffering from the abuse of my fat arse on it. I'm going to have to get used to the fact that I'm going to need a new rear tire every month. (booooooo) I was very accustomed to making a rear tire last two months (two race weekend/events) but as our times get better, the tires are wearing out more quickly.
Speaking of times, Zina got down into the 1:34s! That was a personal best for her. I, too, was in the :34s during practice, which is pretty good. Last month, screwing around on the SV kinda wrecked my Aprilia RS250 lines and my times suffered. Saturday around lunch, I was talking to Jerry the Pirelli guy and we decided to flip the rear tire on my bike. I also picked up tires for next month. This month, I chose to run the "winter" tires on our bikes, a Pirelli Supercorsa SC2 Soft on the rear and the corresponding SC1 super soft front. Last year we learned the hard way what happens when you run a "soft" front in winter. It's too hard for our light bikes when it's cold and we fall down. I do one more practice session and the flipped rear feels fine. I think we did this at the perfect time, as the tire's center was starting to move off to the left before the flip.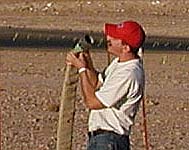 Saturday night, we walked the doggies in the infield as we always do. Hey, wait, what's this hose thing? Click on the pic to find out!!!! We all must thank the track ownership for their contribution to the fans of motorsport! Afterwards, we hooked up with Matthias, his lady Lucy, David, Will, and DangerStu. We ate at Ramon's. It was OK. A little more "authentic" than the Cantina but with actual service. Concept. Another full night's rest and we were up for Sunday's racing.
We got in early enough for the first warm up, but we chose to go with the second to avoid cold tire issues and also to conserve tire wear. We also set up the AIM beacon at the start-finish line. I guess someone doesn't realize that you only set up timing and scoring beacons at the S/F line and also set theirs up along the pit wall ˝ way between turn 9 and the line. This wreaked havoc with more than a few peoples' timers, so a big thanks to them.
The second warm up was OK until these two 125 guys started dicing it up with me. It would have been OK, but one of them seemed to insist that I run them over in one of the turns. They rode along the left of me going down the hill to turn 5, then they moved into me before actually passing me. Since this isn't a race, I stopped rather than give him a nudge. I was a little concerned that if I had just ridden my ride, I'd end up riding over their fallen bike, which could, in turn, cause me to fall. Later on, I passed them back and saluted them for their efforts. Further, after the warm-up session, I "complimented" them on their on track aggression. But that's OK, because the red mist they turned on got me ready for the axe murderer fest known as 550 superbike, sponsored by Wood Ease Hand Cleaners. Apparently, one of the WSMC staff also "had it" with people acting dumb on the track and during the riders meeting implored for us to think a bit more when out on track.
Well, the staff and everyone else has good cause to redouble racers' efforts to "think" while on track, as there was a real nasty incident following an orange crush flag during practice. That's the orange and white checkered flag, which is the same as the rest of the country's red flag. Arm up, ease off racing line, slow down and pull in to the pits. Well, one guy kinda slowed a little more than normal and another guy didn't seem to slow at all. Ambulances and life flights were involved, so let's keep our heads in gear and these racers in our thoughts (and prayers for those who do that).
Soooo, back to racing… I went ahead and ran the tire warmers before our 550 race even though it was starting to warm up a bit. We got out and I was on the front row, P3. I got a typically good start, but the SVs got me going into turn 1. In fact, one of the SVs simply flew by all of us and Clinton Whitehouse got up there, too, on his "RD thing". Well, the guy with the most motor didn't seem to know that you can get on through turn 1 off the start without letting off the throttle. So everyone had to check up behind him. It was pretty bad. Like 5 bikes moved as a pack towards the dirt! Anyhow, he was way fast in the straights, but we all got through him in the next lap or 2. It was pretty rough, though, as folks really stuffed their way past me or whomever else while trying to queue up on this guy. One time, there are like 5 or 6 or maybe even 7 of us bagging into 8 and 9. The slow guy totally parks it and then gets stuffed by someone. Then this guy on a Hawk GT slams down past trying to get by. But I've got my speed and don't want to give it up! I'm already waaaay too far to the inside, so I just lean into turn 9 on the curbing. It was a touch rude taking the inside from all those other folks, but I just had to get through! I've got a race to attend! The trade-off for parking on the apex was OK, as only Ryan and the Hawk GT got back by me and then I was able to dispatch the Hawk as Ryan and I set off.
Then the race settled out… Clinton and Steve on his SV then Ryan, a different SV650 (silver colored) and me. The silver SV came with us out of the Turn 9 cluster. Ryan and the silver SV diced for a bit, then either the silver SV decided to just wait until the end or whatever, but Ryan made good on his passes, where SV dude would pull Ryan on the straight, pulling all of us in his draft, then Ryan would dive under him going into 1. I was always there with the silver SV, only I thought it a little dangerous to really put any moves on him. Or, it wasn't really worth it to fight that hard for 4th. I did get under and past him in 9 once, but he just walked by on the straight. The next time I did that, I wasn't able to sneak up under him quick enough and he closed down on the apex of 9 with me under him. So I spent a few laps watching him and Ryan do their front straight / turn 1 antics. It was pretty wild. The three of us were very tight with each other… everywhere. I would get off the throttle juuust a little bit in 2, 3, and 4 to not rear-end the SV and everywhere else was simply flat out. What was wild is when the SV would pass Ryan on the front straight, as we'd hand off the draft. The SV would start to pull on me, opening the perfect gap for Ryan to slip into, just feet ahead of me. Then my revs would pick up as we both closed in on the SV. Then Ryan would simply out brake the SV going into 1 and steal his line. Even though I was right with them and hanging out in the draft, I just watched as the race ended the same way. SV dude 3rd, Ryan 4th, and me 5th. Across the stripe and I looked back. The rider in 6th was just out of turn 9. Once SV dude settled the pace down (not making Ryan mess with him in any turns other than 1) we started closing on the leaders and if the race would have gone on longer, we would have. THAT sure would have been interesting!
Anyway, I greatly enjoyed this race. I rode with a lot of passion, at times wondering how I wasn't simply riding off my tires. Going through turn 2 with the throttle to the stop, hanging off impossibly far with my head to the right of the tank to keep the bike on my desired path. I also dragged foot and knee in 5 in a big way. After the race, another racer commented that simply dragging knee through turn 1 was amazing in and of itself, as the turn is so banked that the bike has to almost be horizontal! This weekend, I *did* find new speed in turns 1, 3, and 5. I don't know how or why, but Willow's 3 left hand turns suddenly made more sense to me. Every time through turn 1, I went huge. From 4 cone to apex to the cone on the exit, throttle on its stop, body rotated to the inside of the bike, head down, and knee on the asphalt. And if I was fast into 1, I have to say that this weekend, Ryan simply owned 1. He went in so deep, yet was able to keep the speed up. Good stuff to watch. I ended up doing a personal best of 1:32 flat and Zina managed a 1:33; two personal bests!
After the HUGE 550 race, Akos showed up. He's a former Aprilia RS250 and SV650 racer. Now he's working and schooling, so the bike stuff is on hold. He congratulated our efforts and then we started prepping for the Aprilia Challenge race, sponsored by Pro Italia. On the pre grid, I congratulated Ryan for his heroic efforts in the 550 race. Then we got to work. We went out on the warm up lap and I was gridded on pole! That was pretty cool! I got a great start, but I saw a bike in the corner of my eye! Second gear, third, and Zina is out-dragging me into turn 1 !!! That's not cool! So I catch 4th and figure that she'll back off going into 1 and I'll be able to zoom her on the exit. Nope! No way! So I pull up into her draft and start thinking about going up on the inside going into 2, but she keeps the throttle pinned and we stay in formation. I figure about now, Ryan must be crapping his pants! I kinda figured it'd be him and I dicing in 2… So going through 2, I'm hanging off really well and have the throttle absolutely pinned as I cross behind Zina on the exit, letting my bike have its head and using the entire track on the exit. This was for naught, as I'm not really in shape to do anything about Z going into 3. We both get in pretty well. Hmmm. Z's a demon through 4, so nothing there, either. On down into 5 and the race for turn 9 is on. We get on down into 7 and 8 and I see her shift into 5th then 6th. I'm kinda close, but not hooked up in the draft. I wasn't really expecting anything, but if she let off going into 9, I was ready to go up under her. But she didn't! So I'm flat out going through 9 and onto the front straight. I fully expected Ryan to be along going into 1, but he hasn't shown yet. Z keeps a few bikes on me as she crosses the line to complete her first lap in the lead of an expert race. I let Z get a little bit of a lead on me so that I wouldn't be tripping on her and I figured my best chance was to simply nail turn 5 so I'd have the best possible speed going into 8 and 9.
Somehow, this reasoning resulted in extra speed coming down off the balcony going into 5. I had the throttle pinned before turning in a little early and I got a perfect drive up the hill to 6 and I was able to dive under her before the apex. She was starting to apex, but there was a ton of room. I gave a little wave I case she thought it close. (later on, she confirmed the wave and that the pass was totally clean) Then it was bum up and max velocity. I was going very well and hitting my marks as desired for that lap. I then got the cross flags, so I had a slight glimmer of hope that Zina could hold up Ryan for me, but then Ryan went by going into turn 1. Totally clean pass, so I latched on and we were off. It was easy enough to stay in his draft, but passing him wouldn't be simple. Further, keeping him behind me at the S/F line was going to be Herculean. At the end of this lap, I pulled alongside Ryan in turn 7 (I think) but then he got by on the front straight. Then on the penultimate lap, I went under him in 9 and did my best to get a good drive out of there, but he still got past me by the start finish line! Ugh. White flag and we're flying around the course. Coming out of two, I see a rider from the tail of the BoTT Lightweight race. Dang, he could really screw things up! So I let Ryan get a little bit of a gap in case he has to slow suddenly. If I've got a little distance between us, that would allow my more time to think and pass rather than simply panic brake. I thought I saw my chance as it looked like Ryan was being held up going into the downhill turn 5. He got inside this other rider and they both went wide. I smashed the throttle to the stop as I got a perfect entrance to 5 and motored past the other rider at the top of 6, but I could tell right away that Ryan's drive out of 5 wasn't hurt at all. I was able to close up towards the line for a better view of Ryan's first expert win with WSMC. Well, I think it's Ryan's first expert win… anyhow, he done great and I'm glad to have kept him honest! =)
After my Aprilia race, I ran up to the turn 1 bleachers to watch the Toyota Cup Formula One race. It's the "anything goes" main event race at Willow, with a healthy $2500 purse. Well, I think it's that much. At least a grand goes to the winner and they pay all the way down to 10th. Wellllllll, guess which AMA riders showed up at WSMC to get in some off season testing? Erion Racing showed up with their big ass truck and set up the full on effort for Jake Zemke and Roger Lee Hayden!! Kawasaki's Tony Meiring was also there working out of a van. The Erion squad busted out their new CBR954s to get things sorted and were they ever! Jake flat out smoked the Toyota F1 race! He had like half a lap on Chuck Graves, who's really, really fast at Willow. A couple long time Willow folks said they had never seen anyone go into turn one as fast as Zemke! Then as the race started winding down, Chuck got balked a little by a lapper and Roger Lee was able to gain ground on him from 3rd! Oh man! So with like 1 or 2 laps left, Hayden passed Chuck Graves for 2nd. Then Chuck got back by. Everyone was on their feet! Then we watched the last lap as Hayden got awesome drive off of 6 and passed Chuck going into turn 8. Roger Lee was able to hold off Chuck through 9. All heads, eyes, and ears were peeled to the front straight as we watched Chuck try to draft for 2nd, but Roger Lee held him off! It is a notable occurrence when someone can beat Chuck Graves at Willow. Chuck has been led a couple times recently, but take nothing from him, the guy flies.
After this, I helped Susanna Schick (Pinky) load up her Aprilia and then I walked the doggies around and set off for some food. I got a queasy burger and some fries and after eating about half of everything, wrapped it all up and took it to Zina for a snack. She's still working as a scorer for WSMC and it's pretty hectic up there, so I figured she could use a snack. After this it was time to start loading up the trailer. We were able to leave the track by 4:45 and managed to get into Lake Elsinore (the Roadracing [world] center of the universe) to get some Sizzler. I'm super proud of Z, even though she's gonna beat me someday soon. She really stepped it up this weekend and one miscue on my part would have had her beat me, I'm sure. Further, this is her third expert podium!
Not too much in planning for next month. Going to mount up new rear tires and just look over the bikes to make sure they're happy. I'm very glad to be in position again to where not very much effort is required on the bikes between race weekends. It was really hectic there for a while and it sucks to work and work on the bikes and just bang your head on a wall.
=)