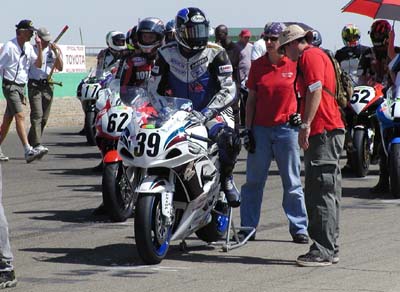 The Toyota 200 mile race was this weekend and our Club, Willow Springs Motorcycle Club (WSMC), was the sanctioning body so the Toyota 200 was piggybacked with our normal September race weekend. It was something different, new, and fun for everyone!

As always, preparations for this month's racing started just after last month's racing had concluded. We wanted to get Zina's Aprilia back to an all stock configuration so we wouldn't be chasing problems all the time. Never mind the monthly $250+ rebuild. So she's back with the very first bike she won 2 novice races on.

The first thing I did along with the race preparations was to make reservations for our hotel as well as with FastTrack Riders. For several years, FastTrack has conducted track days on the Fridays before WSMC race weekends. With the Toyota 200, there would be no Saturday practice. Instead, there were two "warm up" sessions on both Saturday and Sunday. Our guy Scott Cleff had convinced me to take the SV650 out and race it, so I really needed extra seat time to get used to it.

We pulled into the track Thursday afternoon to claim our space and a lot of the paddock in the turn one area were either coned off for vendors or already claimed! Wow! Glad we did the Thursday thing to claim our space! Got in Friday morning and set up our pits, then headed over to tech and signed in. There was the usual rider's meeting. Man, those seem to really go on sometimes… it's just kinda hard on the A.D.D. quotient to hear the basics over and over. One thing that wasn't too basic was the different red flag rule. They went the way of everyone else in the world instead of WSMC's safer way. Red Flag meant to keep on riding around the track and pull in. Never mind if there's someone laying in the track needing attention… we'll be in off the track in 5 minutes or so. =P

While unloading the SV, I notice that the front wheel won't turn. So I missed the first rotation dealing with this. Mad props to Steve Moonitz of Squid Pro Quo for lending me a brake master cylinder. In case you aren't familiar, he races an SV650. That makes us competitors and he helped me. That's what Club racing is about… it's more like a big family. Even if a "nemesis" came to me for help, I'd give it. I may not go to their pits and volunteer it, but if they came and asked for a part or whatever, I'd help them out if I could. =)

I get the SV working right and I'm out in the Intermediate session breaking in the SV, so I'm restricted to 7000 rpm for the first session, which is rather eye opening. I get out and short shift up into 6th gear right away. I eventually settle into a rhythm where I downshift once for turn 1, back into top for turn 2. Down 2 gears into 3, rail up over the hill, back into 5th. Then click 6th gear going up the hill to 6. Then I pull over to the right and "park" it at 7000 and crawl around turn 8. It started getting fun going into turn 9, as that's pretty close to race pace, so I pass more than a few folks there. Kinda funny to do that then just sit there on the straight and let them by. One guy didn't pass me, so I guess he just followed me to see what I was up to. With our gearing, that worked out to 1:45. I did amazingly consistent times all within a tenth of that. Unfortunately, the Bridgestone slicks that were on the SV when I picked it up were pretty tired and felt weird, so I took some time to change to some Dunlops. Allegedly, there was supposed to be a lunch break, but that didn't happen, so I was rushing to get back on track and not miss another rotation. That's racing. Working on stuff, getting sorted out, and typically rushing.

I got ready and just made the next Intermediate session and was quite happy to discover that 8000 allows for far more latitude as well as 1:36 or :37 times. This was more eye opening and great fun. Many folks were dispatched this time. The SV is insanely loud with a voracious honk that made me get some new earplugs. Its power is linear and strong. The 2000 GSXR 750 front end is sublime. The SV completes turns better than the Aprilia RS250 does. It just stays where you point it, while the RS will want to drift out. This is the major difference between them (besides the 20 hp). The seating position is comfy, but the seat and tank make hanging off somewhat different than the RS, but for me an easier endeavor.

I pit in and we work a little on Zina's bike. She's kinda concerned about the power on her RS250. Says it doesn't feel snappy like it should. So we did a little setup on my RS250 for her to try out. Backed off the sag on the forks and shock and sent her out. This is when I was first able to go out and uncork the Seeecret Vvvveapon. I went out and worked my lines and just was smooth about rolling on the power. I came in and was pleasantly surprised to see I did a couple 1:33s!

Zina said that my bike felt stronger, so I busted out the $25 (each) voodoo NGK racing plugs. They're hand made by engineers in Japan. And they made her bike snappy again. =) I went out for Advanced immediately followed by Intermediate to get in a bunch of laps. It was fun and hard at the same time, but the SV didn't seem to mind, which was important. After this, Zina felt that her tires were starting to go off, so she called it a day. I think I did, too, as the last session of the day tends to get dangerous. Plus, I had to change the oil and filter at the end of the day. Boy was that fun. Not. It took quite the large can of convincing to get that filter off!

Packed up and off for some eats with Stuman and Matthias. Stu races an R1 and a TilLeR (TL-1000R), and Matthias an ex-Graves R6. He formerly raced a Triumph TT600. Sometimes, half the fun of a race weekend is eating dinner with other racers. When you don't always eat with the same folks, you get to hear all kinds of interesting opinions about things - as well as race tactics, etc.

Saturday dawned a wonderful day for us. A little warm, probably only 100 or so, but not windy at all. I had an action packed morning warm up. Went out on the SV, came in, jumped on my RS250, tech'd it, and out on it! Wow! The RS is so skinny! Crap… it feels dramatically different. The front end isn't quite as confidence inspiring as the SV is. I only managed like 1:38s. That's not good. But oh well… one of the Libasci Aprilias ripped by on the outside of me in turn 4. "Oh, that's mighty curious." It had 505 on it, which I didn't recognize. I was kinda hoping this guy would have to run novice. The session ended and out again on the SV. I was a little worried about riding the RS ruining my SV "game" so I didn't do the RS twice.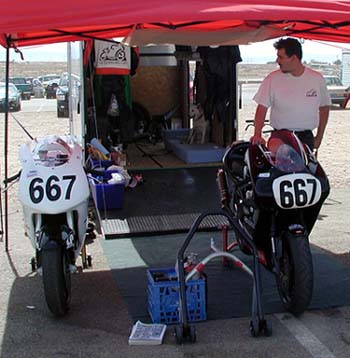 Our 550 Superbike race was 4th. I was gridded like 5th, behind SV Steve (from above). I got a pretty killer start. Steve and I were into one and I just didn't want to let off, so I kept the throttle on and went around him. I know Steve is pretty fast from dicing with him the past few months on my Aprilia, so I put my head down and worked on not screwing up at all. I got through 2 OK, then I bend it over into 3 and get on the gas. This causes me to drift out to the 4 curbing. I don't know why, but I glanced to the right and saw that I was about to run into someone, so I checked up a little and let them through. Yup, it's the new kid on the 505 Aprilia. Huh. That's curious. Dude kinda walked on me. Wow.
So now I'm hauling up the front straight and getting ready for turn one when Ryan stuffs past on the inside and brakes on my line. Well, this ain't gonna work. I can't have all these damn Aprilias messing up my race! I get on the throttle and start something in 2 but don't quite get the job done. I'm not in a huge rush, as the race is only on the 2nd lap. So I keep on my routine and walk by Ryan in turn 7 and roast through 8 and get through 9 kinda average and boil on outta there. I keep my head down and bum up for the crossed flags. Then I just keep going, sorta keeping pace with the new kid. Next lap. I'm bailing into 9 pretty well and go out pretty huge on the exit. I was watching the track more than the "gore point" where the pit road and main straight form a dirt "V" and I ran across a larger portion of the dirt than normal. Steve thought it pretty funny and rather enjoyed the show (he told me this later, I had no idea who was behind me, only sure that someone was!). I got the courtesy flag and was surprised that I wasn't hassled going into 1. Still surprised when I got up and over the Omega without harassment. Cresting 6, I got on the throttle well and early and stole a peek over my shoulder and saw Steve's "Mr. Potatohead" SV. I got through 8 with the throttles to their stops and 9 went ok. Bum up all the way to the checkered flag for 2nd! I got a plaque and a check for $60 thanks to the class sponsor, Wood-Ease Hand Cleaners. www.wood-ease.com By the way, their hand cleaners are awesome. They provide hand cleaner to the track. It gets the greasy nasty off your hands in a hurry and is nice to your skin, too.
My next race up is the Aprilia Challenge, with contingency money from Pro Italia. I dust off my RS250, work on my thinking cap, and open my can of Red Bull. See, it would be WhoopAss, but I think that Whoop Ass has a slightly negative connotation in that with it, I'm going to be putting down my competition, while the Red Bull is more of a "self", introspective type of drink. If I get wings, then my race is dependent upon me and not the whooping upon or defeat of others. Much more positive.
Doesn't matter, my game was done from the start! I hadn't had any RS250 seat time and the SV was already changing my head. I got a pretty good start, but pretty much yielded to Ryan, Tim, and New Kid going into 1. I decided to not screw with them and just try to keep up. Well, they picked up where they left off last month, around 1:33 and 1:32 and I retrograded to 1:36s and 7s. Blah. It made for a lonely race for me. It was strange though. After the 2nd lap, I went into 9 on what probably was an "SV" kind of line and I almost ran off into the dirt on the exit. I was looking at the edge of the pavement and at the straight while keeping the throttle pinned, trying to evaluate my options. But I had it gathered up and was able to stay on the pavement while keeping the gas on. I looked at the speedo and saw that I exited turn 9 10 mph faster than usual! Hmmmm. That's something I'm going to need to work on! That's HUGE. Well, anyway, after clearing the load out of my pants, I looked back near the start-finish line and saw empty track, so I backed down the pace a little. Turns out that I did a :36, then :37, then high :37s / low :38s. Kinda lame for me… like 4 seconds off the pace.
Oh well, so we get in and start getting ready for the Saturday Night Solo GT Lights race. It's the last of 5 races held late Saturday afternoons in the summer months. WSMC was VERY good to us by keeping it on the schedule during this special Toyota 200 event weekend. What was odd was that there was a long period of downtime and quietness while we waited for the 4pm Toyota 200 practice session. This was kind of weird. No bikes circulating, few announcements. Almost religious. So everyone sat around until the Solo riders' meeting and Tech inspection. The office was busy with Toyota 200 stuff, so the grid sheet was a little late, but no worries. Finally, bikes got on track and some normalcy returned!
Zina was concerned about her rear tire gripping. I think it was getting too hot, so I added 1 pound of air to it. We fueled up, I added a little premix to her gas, and she topped off the injector oil. I cleaned my windscreen and visor. And sat around. Got in my leathers, put my "neck gasket" in the cooler, and started my can of Red Bull. We got the call and rolled out to the grid. All four riders in our pits were competing in the same race, in the same class. I arrived to my grid position, number 37, and can't help but think of the coincidence that this is also the competition number of the SV's soooo successful rider, Scott. I think he won all but two of the 550 superbike races he entered on this SV! Those 2 being when the airbox fell off (he finished 8th) and when the motor blew up and he got 3rd. There's the time that he crashed this SV and Steve lent Scott Mr Potatohead and Scott won on him, but that wasn't on this bike. =)
The 651-open wave launched with its usual intensity, followed by the 501-650 GTU class. Then we got our launch. I hit it hard and was first into turn 1. Gas on, up a gear and into turn 2. Two is kind of hard for me because it's been a while since I raced the 916 and I don't exactly want to relearn stepping out the rear wheel during this race. So I'm not really into the throttle, but have taken on my new style of not just getting butt over and hanging off, but more like trying to fall off on the inside. It really seems to help the bike get along when my complete ass and body are rotated toward the inside. Out of 3 and pouring on the throttle to intentionally run wide on the exit to use the available track as I blast towards 3 faster than the RS250. I'm on the excellent brakes to scrub speed and I bend it over to the left as I roll on just past half throttle. The SV drifts out to the start of the curbing when I switch from full left to full right lean and I kind of lazily get around 4 with my body about to fall off the inside. Then I'm on the throttle as I go over the ripples that highsided Ben Bostrom at AMA/Willow 1999 and I power down the hill in a gentle arc to the right. On the binders again as I throw body and bike to the left and on the gas. Slowly on the throttle, but it goes to the stop. Up a gear then right over 6 and I get into 5th. I'm pretty quickly into top gear and I try to keep it pinned through 8 to maximize the distance I put on my followers! Then into 9, but I'm not as comfortable as earlier on the exit and am more conservative. Repeat this two more laps and I'm expecting Chuck Graves to fly past somewhere. Nope. Hmmm. Another lap or two and I steal a glance back between 2 and 3 and see Steve back there. Hi Steve. OK, so it's time to stop being comfortable and turn up the pace some.
I just keep my head down, thinking about the next corner and hitting my markers. Not knowing when Steve or the flyers was coming was really getting in my head. Finally, a fast mover zipped by after like 7 or 8 laps. OK. No Chuck Graves, no Jeremy Toye; they must be either testing for the Toyota and pulling in or not competing. Then Chuck rips by me going into in 2. OK. Keep hitting my marks. Then I started catching the 600 riders. One, two, then a whole gaggle of them. Ooooooo! I saw the opportunity to catch them just right and I knew Steve wouldn't be nearly as lucky. So I ripped by them in 8 at full song and kept it on. Lap after lap. I caught and passed a couple of other light weight racers. They're getting faster, as it's happening later on in the race. The crossed flags came out when I was ready for the white flag. My legs started hurting me in turn 5. Then 3. Then 2. Laps Laps. Throttle. Loud ass obnoxious evil intake honk resonating in my helmet and skull. Ugh. I really had to focus on my markers and the timing of the turns and shifts. I started checking the timer for the lap number. It was the lap before the white flag when I really took a good look over my shoulder near start finish. I couldn't see Steve, so I tried not to do anything different and kept going. Another lap that seemed to last 5 minutes and I get the white flag and keep on my game. As I head into 8 for the last time, Chuck Graves goes by again. For the first time ever, I completed 19 laps of the 20 lap race. Also for the first time ever, I won an expert race!!!
After I pulled in our pits, I found out that Zina was 3rd!! With Steve second, three of our pit's riders were on the podium! Then Matthias showed up and I found out that he won the GTU race! AND it turns out that Stuman won GTO!! So even though Chuck passed me twice, he must have been practicing pit stops or something. So all three of us that ate dinner Friday won our Solo races!! Is that cool or what?! In fact, consider Zina and all the racers at that dinner "got wood". It was also the only Solo race this year that went full length without interruption.
We slept well Saturday night, though we had to get up early Sunday, as I wanted to compete in the 250GP race (sponsored by Bakersfield Yamaha). Basically, for $40 I got 2 warm up sessions and the race on Sunday. The race a little too "axe murderery" for Zina, so she chose to spend the whole day scoring instead. I went out for practice and had a pretty good dice with one of the 250GP guys. He was pretty much my pace. He'd pull alongside here or there. Finally, I kinda pulled over and slowed between 4 and 5 to let him go. I kept up pretty well. Unfortunately, I started feeling the rear tire slipping excessively in two. After that session, I saw that I was back in the 1:34s, which is reassuring. For the next warmup, I lowered the gearshifter a little and added gas and injection oil. Big thinks to Zina for being my pit crew. It's very special feeling to have someone acting as your mechanic. She started my bike for me and got my stand, too. =) There was no second call for the second warmup, so I headed out a little late. I wanted this session more for familiarity and I didn't want to go too fast as my tire was starting to shag. Got out, rode around, passed a couple of folks, then rode around one more lap and pulled in.
Pulling in was surreal. There were no other bikes out. I thought for sure I had blown the checkered flag. But I look every time I pass S/F line. In fact, I normally have to lift my head to see. At the hot pit exit, DRC member Paul Pinaretta was standing there. So we BS'ed for a few minutes and no WSMC staff yelled at me, so I must have been ok. Back at the pits and more DRC folks descended upon us: Victor, James, and Alicia. Also, our "regular" fans returned: Jamie, Jane, and "my new girlfriend" Rita. Or I think that's her name!! OH! Speaking of DRC'ers, Frank! Nolan was at the track with this huge video camera and he was wandering around getting all kinds of film of the event in general. That was cool but weird to talk into this giant gray colored orb optical thing.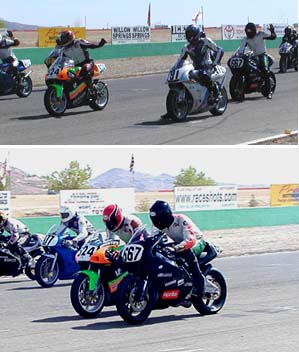 After the riders meeting, Zina went to go to work for the day. She would score the 6 "normal" WSMC races and then provide human backup to the transponders for the Toyota 200. 250GP was the first race of the day. We were the 2nd wave behind the Formula Twins race. I got a great start and was the 4th bike into turn 1. Looking at the pictures, I actually caught the row ahead of me on the start! Eventually, that one 250 guy got past me. And then my rear tire went off pretty well, so Sharyn on her 125 GP bike from the Formula 3 race passed me as well as this loud ass single. Crap, I'm everyone's bitch in this race! Even though I was sliding in 2 and got a huge slide in 6, I still did great times and ended up 5th in my class. 977 was one TZ guy working on getting me. He stopped by afterwards and we talked a bit. I'll probably make a good stepping stone for him to get caught up with the faster 250 guys. I've got killer corner speed, but no power to walk on the straights. =)
After the race, I rehydrated and spent the day slowly packing up and taking care of lots of little things, like dyno-ing the bikes and what-not. Turns out that Zina's bike is a hair stronger than mine, but just under the class limit, so we're pleased with the rebuild. I caught a little bit of the 200 action. The picture below hardly reflects how many fans were out for the 200. I had to stop a few times just to make the grid for the 250GP race! It would have been great to watch more, but my time was really taken with giving the doggies attention and packing things up. Oh, and I spent a good bit of time adding tie downs to the canopies! The wind was pretty strong. I watched as someone across the way almost lost their canopy. This big dude grabbed on to it and took a few big steps but saved it.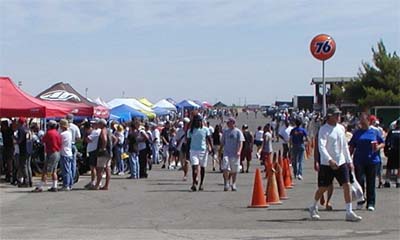 After the race, we finished packing up, hitched up, and took the dogs for a walk around the track. A great weekend of racing has passed, thankfully with 3 running bikes returning home!
=)