There wasn't as much direct preparations going on leading up to this month as the previous months. I did some work to our first Aprilia RS250 to get it ready to bring along this month. New top end and all back together. Before reinstalling the engine in the frame, I did a leakdown and it was leaking at the cases between the cylinders. =( Minor bummer, but nothing catastrophic, as it was going to be the "spare" bike. So I decided this could certainly wait until after the race weekend to deal with. We headed out Friday evening and got to the track a little later than desired due to the goof ball LA traffic clogging up the I-15 / I-215 merge.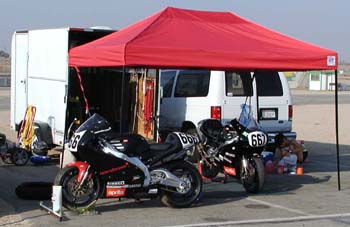 Saturday morning, we got up and to the track early and started on time with the first practice rotation. There was some weirdness with the track in turn 9; there were fences put up, but the track owners purchased proper barricades for us biker types to plow into. Only, it was rushed a little and the fences were still behind the barriers, so there was an impalement hazard… hit the barrier at speed and you might fly over it and land on a fence post. So the Club had a waving yellow in turn 8, the fastest part of the track. By the end of the day, the Club staff figured out a way (and got permission) to remove the posts so we could race under green flag for the solo GT race.
But I'm getting ahead of myself. In the third practice session before lunch, I pulled in a lap early and this one guy tells me that Zina crashed in turn 3, but seemed OK. Well, the first thought in my mind was that her voodoo motor broke yet again, despite my best efforts to make it behave. Grabbed the binoculars and there was nothing to see. Turns out Z felt it start to seize (she's an expert at this), pulled in the clutch, moved off the track, and gently laid the bike on its side. Again, mad props to Zina and racersden.com as the bodywork never shows this! Once off the crash truck, I put my foot on the kick starter and it was pretty stuck. So stuck that I gently lifted my weight off the ground and onto the starter lever!! Hmmmmmmm. Then I parked it in the wheel chock we brought for resale to display how cool it is.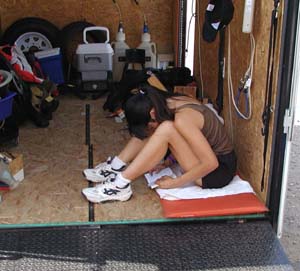 Around lunch time, Zina was bored to tears and it shows the way she's reading her book. I was a little concerned about the used Dunlop slicks on my RS250, so I swapped out with the other wheels that had some fresh Pirelli DOTs mounted up. This month, we're trying the Metzeler Rennsport street compound rear tire to go with the Pirelli SC2 soft front. The soft rear tire was too soft and would only last a month under Willow summer abuse. I went out for a session and the bike felt a little jumpy, so I added some rebound dampening. The new tires felt great so I waited until the Solo GT race. At 4:00, I teched and just after, they called the riders' meeting. Basically, if we had raced in it before, we were excused, so that went quickly. I went and sat around waiting for the practice starts to go down, passing the time filling the fuel and oil and cleaning my visor and the bike's windscreen. Zina was gone helping a friend pack up their pits. Hubby/rider left the track in turn 8 and was transported. He's OK, but it's hard on everyone… him, pit mate and wife, and friends alike. Get well soon.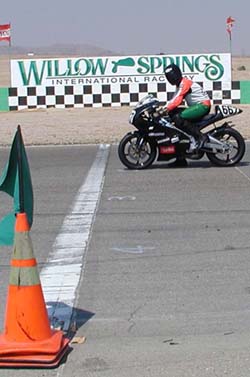 Well, I couldn't hear the announcers too well where we were pitted (or perhaps good info gets lost in the chatter?) so I didn't notice that there were no race starts. So all of a sudden they make first call for the solo race! Dang! I do a mad rush to get ready… I get my can of "Whoop Ass", down it, get on my leathers, and head out to grid. Out on the warm up lap and I blast around 2 and 8 to heat up the tires. Things feel rushed, but it's all normal when on the grid. The fast movers get their launches and then it's out turn. I got my typical start… right behind Steve going into 1. We get around to 3 and I try to leave him room so I can get a good run through there, but I screw up my timing and have to get out of the gas. Then I go for a down shift and the bike just didn't have any power. Maybe the jets temporarily coked up or something. I finally get the bike going again and then Tim Knutson goes by. I kept working on my markers and getting through the turns cleanly and stayed with Tim K for a few laps.
Then I totally got hacked in turn 4. A small train of fast movers was going through but someone got greedy… I saw them out of the corner of my eye and were already closing down on my apex. So I grabbed some brake and let them in. They were so close that after braking for them and they pulled down in front of me that I couldn't even see the tail section of their GSXR in front of my bike! After that, Tim K was a good ways off. I kept my head down and my lines consistent and Tim and I were in touch for the remainder of the race. Sometimes he'd come back towards me and sometimes he'd get away. I guess it's all about the traffic. The same guy that hacked me early on went past in turn 8 and I was able to get a killer draft in his wake… my top speed being increased some 5 or 6 mph! The race was almost processional, but it was still fun! Eventually, the white flag came out followed by the checkers. Third it is.
This month, WSMC fan Russ Penrose put up $600 contingency for the Solo races. $200 per class: $100 for 1st, $60 for 2nd, and $40 for 3rd. Hey Russ, thanks for the $40!!! The trophy people are also kind of "random" and for August of 2002, they had odd wood colored platforms and a motocross label at the top. We wrapped up the pits and retired to the Desert Inn.
Sunday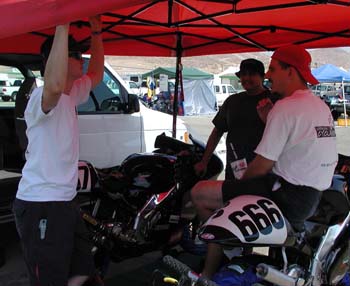 Sunday started off well. (obviously... see the usual BS fest that goes on in the pits!) We got up and got in well in time for me to get in one of the warm up sessions and we were last out before the riders meeting. Zina left me to go score and I was left to my own devices for the day. Somehow, I managed. She left me with 3 gallons of Cyto-max/Gatorade mix. I made my two races somehow without her assistance. The first race was Wood-Ease Hand Cleaners 550 superbike. It was like the Solo GT Light race only there was another fast participant. So I ended up 4th instead of 3rd in that race. It was a pretty good race; I got a reasonably good start and ended up 4th on the first lap. I tried staying close to the front 3 in case someone made a mistake. But no one really slipped up and we were all in touch with each other to the end. I got in and spent the afternoon running around talking to different racers and keeping cool. My next race was #17, the next to last of the day.
During this time, I went up to Zina on the starting grid and asked if she wanted half a tri-tip sandwich. Nope, ok. I got my tri-tip. I ate half and tried to give the other half to the Dunlop guys, but Dennis took great care of his crew with Taco Bell snacks. Then I ran over to Mel but he had already eaten. Dang. Then there was this dude that was like "Hey Chris!" I'm like "Doood! Want half a tri-tip?" He said, "Do bears shit in the woods?!"
As the day wore on, I started tearing down the pit and packing things away so that after my race, we'd be really ready to hitch up and head out. And then the breeze picked up. It started growing in intensity as time passed. Race 17, Pro Italia Aprilia Challenge came along and we headed out for the warm up lap. Going into turn one, I knew there was trouble. The wind just pushed the front of the bike through the turn. And I could tell that it was unusually bad. I worked on getting the tires heated up. We gridded up and got our launch. I was with Ryan and Tim going into turn 1 and around the course. But it was bad going over turn 6. Both wheels let go in a pretty big way. I got out of the gas and climbed all over the bike to get it under control. By then, Tim and Ryan had pulled a good gap, but I kept on it in hopes I can be there and mess with them at the end. Pulling around 8 and 9 and onto the front straight, I just wasn't there for the draft. I eased into one tentatively, giving up more distance to them, but was able to get the bike to go where I wanted it to, so that was good news. Coming around 6 again, I was a little easier on the gas than normal (WOT) and the bike was still upset. Dang… now Ryan and Tim are starting to clear off. The wind is so strong that the rear of the bike is getting upset over 6, coming out of 2, going into 1. Ugh, this sucks. I think part of my problem is that I've got the front end setup a little too steep. So next month, I'm going to raise it back up that little bit. I was so slow in this race, doing 1:38s, so the fastest vintage bike caught me. =( I figure that Tim and Ryan were in the mid to upper 1:36s. The wind was brutal to all of us, but me the most.
After the race following mine, Zina showed up and we finished packing up the pit. We were done pretty quickly and hitched up by 4. We wandered around a little to get carry overs and my other trophy. When we went to get the beacon, though, someone had already taken it. Ya know… if you wanna help me out, can ya wait until after we've left? =) At least we got to our favorite Sizzler, the one in Lake Elsinore. Somehow, all the staff at that store are just plain happy to see us customers. That makes all the difference in the world!
See ya next month! Work is already under way…
=)