Guess what? I had to fix the bikes again before this month. An oil fitting fell out on Zina's bike in June and it seized, ruining the piston and cylinder. I got one of the spares and machined it to match the one I removed and got her bike rebuilt before the AMA/World Superbike weekend at Laguna Seca. Just after I get this completed, we find out Zina is to leave from Laguna Seca to fly to Italy to test the new Ducati 999 at Misano. So I drove home and got working on my Aprilia.
My rs250 suffered from the back shifting in June and there are interesting marks on the piston skirts. I measured them and compared to the new ones and they're .001" smaller. Not much, but there was a definite rattle after the overrev. I also replaced the wrist pin bearings. After measuring the wrist pins, I replaced one of them. Subsequent measurements of wrist pins in my spares show a .01mm variation in them so this replacement may not be absolutely necessary.
All alone, I hitched up the trailer and made the 200 mile haul up to Willow Springs. I stopped in to say hi to Kelly Baker at his new shop and then unhitched and claimed the pit space. Susanna Schick is pitting with "us" again, which means "me" this month. I arranged ahead of time to ensure she'd show up, as i'm not comfortable with the idea of racing completely alone. Afterwards, headed to the Golden Cantina for feed at the bar and on to Desert Inn for rest. Up early and in so I can get both bikes tech'd and hit first practice.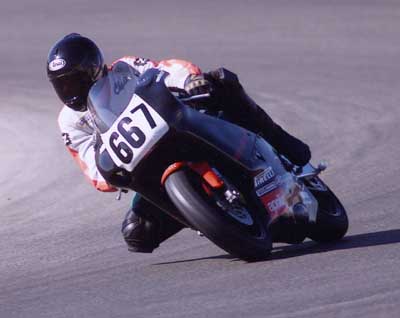 While spewing the items out of the trailer that forms our pit, I realized how much Zina contributes to the morning preparations! Susanna showed up about the same time that I was about done getting things set up and helped me realize I needed to get out on track. I suited up, fired Zina's rs250, and headed out. This pic is me riding her RS through Willow's turn 4. Her bike has a fresh rebuild and Dunlop slicks. The bike and I didn't really gel. Its power delivery felt softer than my rs250 and the suspension was absolutely not for me. With the soft springs, her bike was jumping all over the track. I finished the session and next rode my bike. It was a night and day difference! While sitting there contemplating things, it dawned on me that I could take the wheels off Zina's bike and put them on mine and I'll then use the slicks for practice and the Solos Series race and save my DOT tires. At some point in the morning, I was standing between the bikes and I backed into the exhaust pipes of my Aprilia and burned the back of my calf. It started to welt, so I folded over some blue shop rag and used duc tape to make a bandage and prevent chafing in my leathers.
I missed a practice rotation and spent lunch swapping the wheels and in the next practice session, my bike and I meshed very nicely. My lap times were good, I was comfortable, and now looking forward to the evening's race. Roadracing World's John Ulrich was out on an Aprilia this weekend and stopped by. We BS'd a little about them. It's good to see more folks playing on the little 2 smokes, especially someone who could possibly bring exposure to the bike or WSMC.
The Solo Race's riders' meeting was attended by big names like Aaron Gobert, Chuck Graves, Jeremy Toye, and Chris Ulrich. The race started as always, with the two waves of zoomy bikes tearing off ahead of us. Craig Hubert waved us off and I got a great start, getting into turn 1 just behind Steve on his SV650, Mr. Potatohead. It was evident that Steve was stepping up some from last month, as the pace is hotter than before. Chuck Graves and Chris Ulrich ripped by and I settled into a rhythm and thankfully didn't "notice" anyone that was passing me. This means everyone got by without parking in front of my 250 and I didn't have to use my brakes to avoid hitting and "fast" bikes. I wasn't harassed by other lightweight racers while behind Steve, so I thought I'd focus my efforts on keeping with his pace and see if I could come up with a strategy. I thought if I mustered the effort to make a pass that Steve would also step up and just repass me.
Then the orange checkered flag came out. This is a "red flag" everywhere else… slow down and pull in off the track. The race did a 15 lap restart after some 20 minutes and we had to repeat all of our efforts from the first start. Right away, I see that Aaron Gobert crashed in the last part of 3 and then another bike in turn 4. The second bike was Chris Ulrich's. Both must have been OK, as the race went on. As the laps passed, I was drawing up to Steve. He was leading and I was second. I really thought that I should just sit back and stalk him to the last lap to make some kind of charge, as he'd just motor by after any pass I make before then. It got to where I was too close and starting to think about passing him anyway when the orange crush came out again. I didn't know it, but the race was simply ended. Had I made my move… well, who knows. =)
No great shenanigans Saturday night. I stayed super late to swap the wheels back for Sunday's racing. In to the track early again and I head out for the first Sunday warm up session. After a couple laps, I turned what felt like a perfect lap and decided to pull in after that. It just felt awesome. The time from that lap wasn't spectacular, but good. After the session, I took the time to prep my bike after the long race the previous night. Added fuel and oil and cleaned the windscreen. I decided to skip the second warmup, I was so satisfied with the first one and bearing in mind that the Aprilia Challenge race was the first race of the day. I took my can of Whoop Ass to the riders' meeting so that my opponents could be appropriately threatened. The race was called and we headed out. My intensity has increased over the past two months and I feel very focused on the warm up lap and ready for the start. Craig launched us and I was second into turn 1 behind Andre! Going into turn 2, Ryan Hoffman kinda zips by on the inside, but runs wide and we cross and I go under him through 2 and just keep the throttle pinned. I've been improving in 3 and I've altered my line as I approach the turn a little, too. Up over the omega and down the hill into 5, knee on the curbing and on the gas. Fully tucked as I climb the hill and catch 4th as I crest turn 6. My speed and tight line over 6 draws me out to the dirt before 7 and I get 5th gear. Change up into 6th as I head into turn 8, completely looking through the windscreen with my knees and elbows drawn in tight. I've also been working on my approach to 9… so I don't go in as tight as I used to and keep the gas on longer before shifting into 5th and pin the throttle again as I bend it in. I thought I caught a glimpse of a bike on my outside between 8 and 9, but I was really focused on my riding to pay much attention.
I'm really concentrating on my apex point, right knee skipping the pavement with the bumps going into 9 and the throttle is still pinned. The apex comes and goes and I watch the track's edge approach as usual and I'm into the entrance of pit lane, looking at the gore point, where I cross back onto the main straight. That's when I feel a bump on my left and there's Ryan, kinda like knocking on the door, "hey, can I get on the track, too?" I'm like "WOW!" and then throw my bike to the right to let Ryan in. He pulled me a little up the straight and beat me to turn 1. From there, we stayed pretty close, but he pulled a slight gap, which I helped when I tucked the front in turn 1. I thought I was going dirt riding, but I kept it together and only lost some speed. I was truly shocked that no one flew past me after that bit of stupidity.
Andre is riding around looking backwards, as always, and at some point, he let Ryan by. And then he started coming back towards me. I caught Andre in turn 9 and I was wondering if he was running interference for Tim, as he's suddenly where I wanted to be but at a slower pace. So, I tightened my line a little and got by him on the inside, but my drive was kinda wrecked and Ryan pulled a bit. We rode around for a few laps, Ryan, me, then Andre and who knows who else, as I haven't looked back. One time over turn 6, both wheels slipped a foot or so, but it was a slow, gentle slip and not really of concern even though it's never happened before. Then on the last lap, Andre came ripping past on the way into turn 1 and set off for Ryan. He cut it close, but Andre got him at the finish.
Susanna wasn't going to run 550, but I convinced her to try it out. It is more track time, and after realizing it is $20 less for the second race than the first at WSMC, she went for it. We went to the club office so she could pay the $40 race fee + $10 late entry and so I could get my 3rd place trophy and $40 check (thanks, Pro Italia) from the Aprilia Challenge race.
550 Superbike was more or less a replay of the Aprilia Challenge, only Andre wasn't on the grid. Not sure why or how that happened. Another great start and I'm like 5th or 6th into turn 1. Bikes and positions shuffle around and someone's bike failed them near turn 9, as they laid it on its side on the dirt on the entrance to 9, making for a new "braking" marker. I try to hang with the faster guys and Ryan, but 550 isn't really my big race and my drive isn't as intense, though my times are still a half second better than my best times from before this month's racing. Towards the end of the race, Ryan started coming back to me, but the race was over before I could get close enough to contemplate a plan. 550 was a good race, I tried hard and rode with passion, but didn't really push hard enough to cause the bike to get unsettled. So, my report on 550 SBK is rather boring.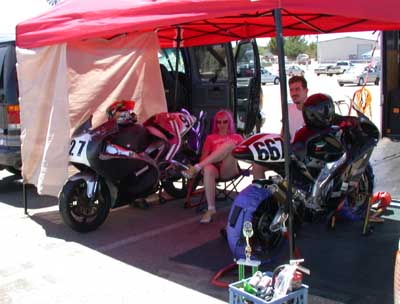 Big time fan from last year Anders showed up in our pits. Been a year since he's been out. Anders was the cool dude that made that mpeg4 video of me on the 916 last year trying to harass that R1 rider. He took this pic of Susanna and I relaxing after our races. Check out the trophy!! He was a little bummed to find out our races were over, but he was treated to a real show with Jeremy Toye and Chuck Graves fighting it out in the Toyota Formula race.
Packing up seemed to pass more quickly than ever. There wasn't too much BSing, even with Stuman stopping by to talk about his 15 podium finishes this weekend! Susanna's van was mad at her as always and decided to need a jump start so she could leave after helping me with the canopy.
I stopped by the gift shop and saw that the only photos of me this weekend were when I was out trying Zina's bike. Since that's holding up the racersden.com banner, I figured I'd pop the $20 for a picture of me on track. That's the riding pic at the top of the page. I pulled out of the track at 2:20 pm and headed for home. The area of Cajon Pass where I-15 and highway 138 meet was simply devastated by the fires from last month, with at least 5 miles of obviously scorched earth. Road signs were blackened and some chain link fence on the roadside was charred and distorted from the heat.
A successful race weekend has passed and I look forward to the next! I've got some new things to try and tires for testing!
=)