This month saw a lot of work going in to getting ready for the event. It all started with new tires on the van and we also bought a spare for the trailer. That was pretty funny… and it only took like 4 tries to get it right. I knew it would be easy to screw up, so I actually took a wheel off the trailer and gave it to the dudes to replicate. Well, that's taken care of, so we won't be stranded if a trailer tire gets nuked.
We also did a ton of work on Zina's bike to try and get the power to a more respectable level and put in a good 60 or so hours of work on the bike the week leading up to the race event. Z was an outstanding partner and helped me out a lot with different tasks and really contributed to getting her bike done in a timely manner. As we were wrapping it up on Tuesday, I was thinking about doing a quick top end rebuild on my bike… so I took the pipes off and looked around in the ports, etc, and everything looked good, so I figured I'd blow it off until after the race meet. I did make sure to get new tires on my bike as the SuperSoft Pirellis just aren't right for my big butt and I hope the Soft rear will work.
We got loaded up and headed up Friday, pulling in at 11 or so. Unhitched and we tucked in for a nice night of sleep. It was really nice out… we had the windows open and the desert breeze was perfect. We got up early and did the usual shuffle to unstuff the trailer and explode all our junk to form our pit. Got tech'd, set the tire pressures, and by the time we were getting ready, our session was getting started! We got out and the checkered flag came out on my first flying lap. Oh well… at least the session got some laps in on the tires and my brain starting to work. Right away, the Soft compound tires felt a lot better on my Aprilia.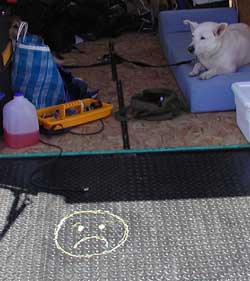 We pulled in, put the tire warmers back on the bikes to slow their cool down. Then we hydrate, feed on some fruit, and get ready for the next rotation. When 2nd call is made for the session before ours, we fire up the generator and start getting our leathers on. We get out and I start getting some good laps in then IT happens. My bike loses some power. It starts out subtle… hmmm. So I go around again and then half way through turn 1, it really loses power and I have to downshift to keep forward thrust. I stay to the right and put my hand up. I totally know that I lost like 15 or 20 mph there! I'm well to the inside and take a good look behind me to see an empty track. The T2 corner worker is really really eyeballing me now. I go on about getting around the track and after 6, I hang my leg off to indicate I'm pulling in. Now the bike makes pretty good power through turn 8, where I'm pretty much going along at 120 with my left leg sticking out. I pull through 9 on the far outside and rip into the hot pit at 80 or so. I see the crash truck wanting to come out, so I move left and slow waaay down and they roll on out. I pull up to the start finish line next to the wall and just kinda check out the bike. The revs seem to work OK, nothing is spilling out, everything seems OK. One of the starter dudes looks at me and visually asks if everything's ok and I nod. I pull out with a practice race start and the bike really feels inspired. Then as I'm out on the track, the power loss happens again. Dang, so I signal that I'm pulling in again. This time through 8 I see a yellow flag in turn 9 so I look more and see a bike out there. Then I see it's Zina. Hmmmm. Great. I ride by totally checking her out… she's sitting on the bike and doesn't appear to be dirty, so hopefully that means no crash. See the picture? Well, there's this "lump" in the ramp that makes a loud bang when you step on it. So Z goes and draws a unsmiley face on it. Yup...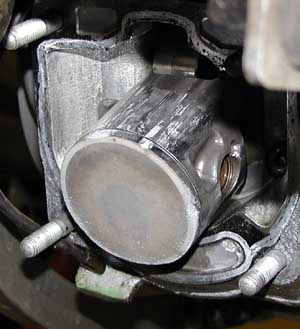 I pull in to the pits and wait for Z to show up. Her bike totally and completely lost power through 8 and since she was far left anyway, just pulled off and ran through the run off a ways. Zina and I remove her bike's lowers and tank and we get to work. Aluminum doesn't normally belong on a spark plug. Oopsie. Then we got the pipes off and I look to find the piston badly scored. Next, I drain the coolant and pull the head and cylinder. The head is fine, but the cylinder will need some repair. =( The piston is gone. I started thinking about our options. Drive home (200 miles) and fix one of the bikes. Then find time to get sleep AND drive back. Another option is to run my bike with me riding in Aprilia and Z in 550 Superbike. Obviously, our absolute favorite race, the Saturday Night Solo Series, is completely out of question. After thinking about it a good while, I talked to Z about simply packing up and calling it a weekend. I don't want to risk either of us getting in a racing incident because the bike blows up.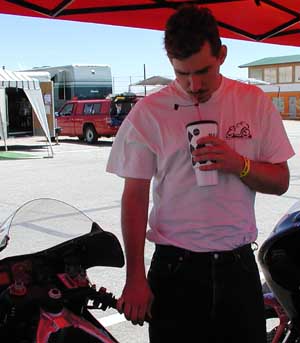 This pic is of when I was mulling over our options. Zina pointed out that it looked like I was holding hands, consoling my poor bike. We packed up but we stayed around to watch our favorite race. It was very sorrowful to spectate. It also sucked that our bud Dean stacked it in turn 3. There wasn't a single red flag last year in the solo series, but his pirouetting Ducati left him too close to the track for safety. The race restarted and we got to see our man Scott Cleff roar to victory with Steve Moonitz close behind. Mad props to Susanna (Pinky) for going out and riding her pink butt off for so long. =) It still was sad to watch from the grandstands.


The below happened while we were cogitating about whether to pack up. Someone ran off turn 3 at speed. (I think) If I recall, there were heresay accounts of someone practically not even trying to make the turn. Kinda like Miguel DuHamel's crash of AMA 1999. Well, Miguel fared better, not requiring Life Flight, but we were informed that this gentleman is more or less OK. Suck.. that's two months in a row that the red chopper has come and visited. Two months in a row after at least 15 without!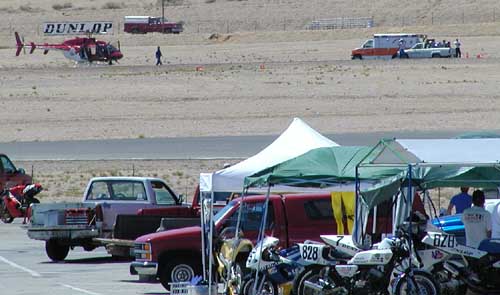 Anyway, back to the story... after the Solo Series race, we went over and saw one Dean with a HUUUGE swollen knee and started helping him and Patty get the bikes loaded up. Suddenly there was like 5 or 6 dudes all around helping out. That was real cool. I'm damn proud of our fellow WSMC club members. It was way late in the day and a lot of folks had already bailed. In a matter of moments, they were sorted out and ready to go. After that, we got our doggies and went for our monthly track walk. We went across one straight to 3 to see if the corner workers left anything. Well, just a torn handgrip and part of a lever were all that remained. We went on across the base of the Omega to the entrance to T5 and we walked up the track to turn 7 to look for Mark Allen's footpeg. Didn't see it, but we did find a good left glove and another one of them faux carbon clutch covers from LP-USA.
We said goodbye to whoever was left and asked Kenny Kopecky to take care of the beacon. I would have brought it home, but I didn't want to leave people without the source to make their timers work. Traffic was much lighter headed south on a Saturday night than Sundays. We tried out the Sizzler in Corona. Same great food as the one in Lake Elsinore, but the salad bar was a bit smaller and the employees the slightest bit less cheery. But it was still great eats.
We slept in Sunday and decided to take our "extra day" and go dirt riding to try and make up for the sorrow of missing our normal and also favorite races. We loaded up the DRs and headed east to Corral Canyon. It's an OHV park 40 miles east of San Diego off I-8. A quaint little park with roads and trails ranging from easy fire roads to trials style rocky climbs and descents. We did notice some new USFS signage marking a few trails, which was pretty cool. We saw the Lake Morena reservoir. It is an awesome view of nature from the heights within the park, but we also noticed the reservoir was comparatively empty from the last time we visited. There used to be an island in the middle of it. And there was a visible water line like 30 or 40 feet up some hillsides above current level.
A few new "billboards" with trail maps also pointed out which were most difficult and which were easy. Wow, could have used that over the past couple years! We saw a trail that we heard about but didn't actually know about… one that leads to another OHV park, Pine Valley, some 12 miles away. We putted up to the trail head and worked our way down several hundred feet of elevation. This was a good fun trail, but pretty narrow. At one point, a guy on a XR and I had a pretty close call, both of us locking up and sliding past each other. We headed on down the trail until it crossed the access road to Corral. Then we started up the ascent form hell. It had a bunch of loose rock. We call it moon rock. Shitty traction with the added bonus of the occasional large rock causing the bike to spit in an unplanned, or worse, undesired direction. At the top, we rested to take in more incredible vistas… where we were off to one direction, I-8 flowing like white ribbon in the valley far away and true silence. Well, until an airplane flies over at 20+ thousand feet…
Eventually, we hooked up with a main road from the Pine Valley area and we turned right / east so that we would end up on another trail that links up with Buckman Springs Road, the paved road that goes from I-8 to Corral's access road. Once back at Corral, we stopped at the truck and had some snacks to recharge and I suggested we go up into the park and ride some more and Z wanted to go up that Corral to Pine Valley trail and she wanted to lead. Cool, we get there and start up and I'm having a bit of a time with visibility. The dust and setting sun make seeing the path difficult, so I slow down to let Z get further away. We get into the switchbacks on the climb and about half way up, as Z is going right into a turn, her bike too quickly falls down and then another bike slams to the ground coming from the other way! A head on! F------ck!! I pull up and park and see Z laying on her back beside and under her bike. I ask if she's OK and Z says to get the bike off her foot. I pick it up and she starts mobilizing, so I reckon she's alright. I'm really peeved at the idiot flying down the trail but I focus on Zina and her bike to keep from getting into a fight with the guy. While I'm up at the next berm kicking at her totally bent around shift pedal, Zina is conversing with the guy and smells alcohol on his breath. Greaaat. Mr. Neck is out drinking and flying down two way single track. I hope he got a DUI on the way home. Z says she's OK enough to ride on up the hill, so after some repairs to her bars and clutch lever, we press on. Oh, we never could find her left mirror. It was simply gone from the impact. Also, Z says the brush guards on her bike totally saved her hand, as it was basically smashed as it was! Just around the bend was a pack of bicyclists relaxing on a huge rock. They sure got to hear that whole exchange and I bet they're glad THEY weren't on the losing end of a drunk on a 426!
On up the hill and we got to the top and hit one of the easier trails, called Greenhorn. It wasn't totally easy like a fire road and had a few tricky elevation changes. We got to the end and Z was starting to feel the affects of the crash, so we headed back down to the truck via the roads. Once there, she showed me her bicep… it was basically black and blue all the way around at the middle. She thinks the other guy's handlebar hit her there and spun her off her bike. Her DR has some serious black marks on the left fork lower, too.
We we didn't get to race, but we got in some good riding none-the-less and we didn't have to get airlifted anywhere, either at Willow or Corral, so we're blessed with another safe weekend. Zina is doing a lot better today (Monday). Her arm is still sore but the pain in her hip disappeared with a good night's rest.
Corral canyon link: http://www.sdorc.org/ohvareas/c_canyon/c_canyon.html We found out about Corral when we had a Jeep Wrangler. Cars suck so we bought DRs. Much more fun.
=)