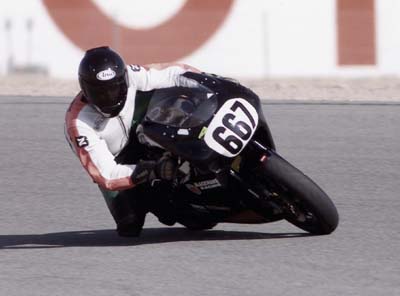 Racing just keeps getting more and more fun...
I don't really know how to express the mood coming into February. It was neither hugely expectant nor low. It was almost blase... definitely far too many weeks since the January race!
Bike maintenance was comprised of checking that nothing had fallen off the month prior nor was about to, lubing the chains, and topping off the oil injector tank(s). We did get new pipes for the slower bike... Jolly Moto from Italy. Allegedly, they make 1-2 hp more than Arrows do, but a lot of US Aprilia racers say that the J-M pipes have no ground clearance. Well, they didn't in the past, but they redesigned the pipes for more clearance. When bolting them on, the right expansion chamber interfered with the swingarm, so rather than space out the pipe at the mount, I got a block of wood and a mallet and created a strategic dent to clear the swingarm.
Weather plays a part in our plans and the weather in Rosamond had been rather chilly leading up to the race weekend, so we decided to drive up early Saturday morning. This saves us the $62 for staying at the Desert Inn on Friday night. It also means that we'll be a little tired and get a late start. Other than the insanely thick fog in the Center of the Roadracing [World] Universe, also known as Lake Elsinore, the haul up was pretty typical.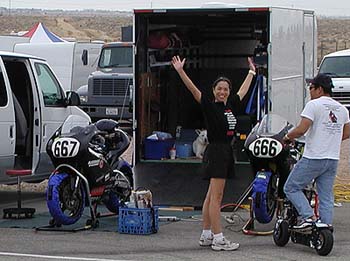 We landed around 9 am and unpacked in wonderful weather... clear skies, temp in the upper 60s if not 70s. Wow! Our racer friends Dean and Patty said they were out for FastTrack Friday and the weather was even better then!! Got our crap squared away, tech'd, and the warmers on. Note that Zina is in shorts in the Saturday pic. She's a "cold wuss" and anything under 70 degrees F is winter. This is why we like SoCal.
We had a couple of good sessions reacquainting ourselves with the Big Track in the morning. Nothing special to report... the pavement was warm, so the track was communicating through the tires. Grip was plentiful, adding to riders' courage. During the first session, this loud ass EX500 went by me and I was "who the eff is this?" Then I noticed that I was faster than he in a couple spots and dove back by as he balked passing someone. Then he'd get by when I slacked off. Oh boy... We ended up really dicing... turning 0-500 practice into our own mini 550 Superbike race. That's the axe murdering race. (As it turns, out #44 is Jose, one of Scott Cleff's buds) Well, Jose goes by me into 1 as we run into some traffic. Going into 2, we both get balked by more folks and plow through. We bag ass out of 2 pretty well, both of us running real wide pouring the power on. Then there are these 2 or 3 dudes going into 3 slower than us. I'm like "HeeeeeeeLLLLLLL no, I'm not waiting for all these dudes through 3, 4, 5, 6, and then try to work something out in 8" ... So I keep on the gas, and Jose lines up behind the dude on the far left... Screw it! And I totally bail left and keep the gas on as everyone brakes. Then I'm extra hard on the brakes... and pretty sure that I kinda made everyone slow a little. I had to grab an extra gear down to climb the hill. Going through 4, I hear Jose on me and I chuckle because he went through on them, too. After the practice was over, I hung out to see who #44 was and laughed when I was it was Jose. We had some pretty serious fun out there!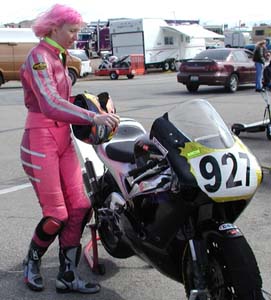 I rolled back to our pits and put the tire warmers back on (without power) to help the tires cool slowly. Then I felt like puking... I thought it was because I was getting dehydrated so I started sucking down fluids. "Aprilia Suz" was out, too! Susanna Schick was out racing with WSMC and was pretty amazed at the speed on the Big Track. =) In the next session, I was still feeling kinda weird, so I figured I'd walk around with Suz and try to show her a line, etc. That was fun and then towards the end, some folks went by and the red mist came on and the throttle pinned. =)
Then it was lunch break... with like an hour and a half until we were up again, I went and got some of the famous Tri Tip sandwich. The real key is to get the dude to take some of the meat and put it on the grill before building your sandwich. It just makes the sandwich perfect. Eating seemed to totally be the cure for my queasiness earlier. Perhaps a couple Pop Tarts aren't enough food from 4:45 until 11 am... ??
After the new racers group, it was our turn again... and the infamous Willow "Breeze" rolled in. We got two sessions after lunch, so I worked on my riding in the breeze techniques... Typically, the breeze slows you down through 9 and/or helps you not run off the exit, so I just pin it in 9. The only question is if you can maintain enough speed to to stay in 5th or if you need to grab 4th. The pic above is me zeroing in on the apex of 9 near 100 mph. If you want wallpaper, here ya go: 800 and 1024. At some point while trying to get around 2 in the wind, I happened across Gayathri and gave a thumbs up when I passed. She's kinda gettin her bearings back and I was proud that she was out there practicing in the wind when it sucks. And to go on about lady racers, VJB was out and as fast as ever. I did a race start, she zoomed me off the line and left me for dead pretty quickly.
Our second post lunch session ended around 3:45 or so and we knew it was the last for the day and packed up. Once all done, we dragged Susanna along with her friend Glen for the track walk. It's mostly an excuse to get the doggies out to entertain and exercise them, but always enlightening for us. Ever notice the palm trees in the middle of the rabbit's ear? After the walk, we did the traditional overrun of the Golden Cantina. We initially planned to meet with Steve Moonitz, Gayathri, and Susanna. But we got there and merged with some of the Cleff crowd, Jose, Ryan, and his bud Pat. Then the Cleff Crew landed... Scott, Stuman, Davis, and Mel and Bob. Somehow, Mel and Bob didn't end up sitting at the table(s) ??? The wait staff should really be used to us landing on them and assimilating tables like the Borg in wildfire mode.
Sunday There had been talk of possible rain on Sunday... and we woke up to medium duty rain showers! We had never seen actual and proper rain at Willow and were kind of in disbelief. It rained all the way to the track, but wasn't raining there. We were making noise about skipping the warm up and 550 Superbike race (which was the first race of the day!). But after unloading and teching my bike then watching others out in practice, I decided to give it a try and fired up the generator to power the warmers...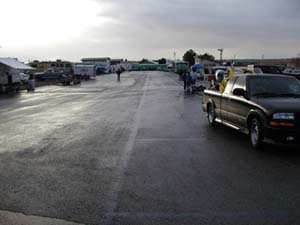 Ooooo, it was slippery! The track was "wet but drying". Well, it was wet everywhere when I was out! There weren't any dry lines, just places where the bike in front of you sprayed less. I tiptoed around... having never before ridden on Pirellis in the rain. It was wierd. Perhaps it would have felt better if the track temp wasn't in the 40s. I just eased around the bends, carefully adding throttle and could feel the front or rear dancing lightly whenever I had any angular force. Speed, lean angle, or power would result in some squirm. Once while exiting 9, I down shifted to 4th to get more power to the pavement and the rear stepped out a little. It was enough to be fun, but not so quick as to actually scare. As with all things, seat time and more experience would help comfort and speed.
The session thankfully over, I pulled in and readied for going to the riders meeting (with our race immediately following). With the dry line emerging in the ensuing practice sessions, Zina decided to go ahead and run 550 SBK, too. We got our grid positions, got on the warmers, Zina got dressed, and fired up the generator as we headed to the riders meeting. Danny Farnsworth was pretty peeved at us riders because a few folks decided to ignore the red flag (pretty worthy reason...). Otherwise, the meeting was pretty typical and when finished, we ran (well, Zappied) back to our pit to warm up the bikes and get ready to race. Oh and mad props to wsmc and the Club's sponsors who do free give aways. Every month, someone gets a free Barnett clutch and this month, there were like 4 or 5 free track days handed out!!
First Call for Race #1, 550 Superbike, and we put on our helmets and I put on my gloves. When second call is made, Zina turns off the generator while I pull off the warmers. Zina lays them out as I pull the front stands. Then I help her with her rear stand, I get my own, and we're off to the grid. I practice a race start when they let us out and I'm glad for it, as I damn near wheely over and had to chop the throttle. The sighting lap was almost perfectly dry, so no worries about the damp stuff. On the "real" start, I did much better and was like 3rd on the way into turn 1. On the entrance, a couple bikes weave all over, I chop the gas and two bikes zoom me. It was pretty processional from there... I tried sticking with the gang, but as usual, it didn't work out so well and everyone pulled clear. I just kept my head down and worked on my turns trying not to screw up anywhere.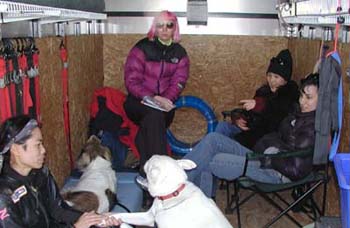 Then like on the penultimate lap, this dang TZ250 rips by on the straight towing an RS250 behind it. Bastard! That illegal TZ helped someone get by. So I'm repeating in my helmet the TZ's number, cursing his soul for being where he didn't belong and helping someone beat me... At least the TZ pulled off on the last lap... and suddenly the RS250 that zoomed by wasn't exactly zooming anymore. We were pretty much matched, but I couldn't step up and catch him. None the less, I was stoked to finish 550 SBK 6th. Sure, a LOT of regulars didn't show up, but I'll take my points where I can get `em!
We pulled in and our "crew" showed up! Jamie, Jane, Mark, and Anna. They're sooo cooool. They show up almost every month and cheer us on! When they do that, I feel like I suck less than I actually do. =) Note in the pic that everyone is thoroughly bundled up. It must have been 20 degrees cooler Sunday than Saturday!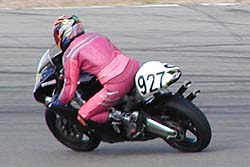 We helped Susanna out of the pits and watched her race - she wasn't last, so that's a good thing! She was kinda hoping that it would be wet, so she could use her Louden experience but it was still dry. She was pretty jazzed that in the morning warmup, she was passing guys that were passing her in the dry the day prior. That and our "mob" helped us pass our time until race 9, the Aprilia race. 4 strips of tape were a bit much for the morning race, so I took one strip off. Added gas to the bikes and the generator. Also ran into a lot of friends... Marlon Ibarra made his comeback this month. The Libasci folks pitted in the turn 1 area, so I stopped by and Al asked if I brought windshield wipers or had a "pound of Rain X." Regrettably, we do have RainX but it was at home.
Time for the Aprilia race... we go through the same routine... 2 races prior (#7) we use the House of Charmin and warm up the bikes. Race 8 starts and we're dressed up. First call and the helmets and gloves on. 2nd call and we look like some kind of "real" pit with practiced and rapid movements and we're off to grid. I got a pretty good start, but Tim K got a better drive. The warm up lap told me what to expect going past the bleachers into one, and I was ready for the wind blast by backing off the gas a little. That's when Andre rocketed past close on the outside. He was close enough that I was glad the wind didn't do what it frequently does with me on board, which is move me a foot to the right. That probably doesn't matter, as he is one rider who Doesn't Suck and would have just gone around me anyway. =) Andre was so very kind enough to extend a very large trailer hitch for me to catch a tow on, but he still slowly pulled off to join Tim K. On the 2nd lap, the mystery new guy (who got the TZ tow rope earlier) pulled up next to me in two, so I pinned the throttle to not just give in. I ran typically wide on the exit, but was careful not to drive to the dirt, which I wouldn't do knowing someone was out there... I knew he was setup for the inside line into 3 and it was kinda breezey, so I let off early and ease in while dude rockets by. Oh my... damn I'm glad I didn't try to lean on him or anything as he wouldn't have had it. I tip toe into 3 in wind mode, as it can blow me to the right... up into 4 slightly below optimum revs and then down the hill towards 5 and I see that he's behind Tim and Andre, but not as far behind as I would have figured. I don't charge into 5 as hard as usual, as I'm trying to be smooth and the breeze can blow you into the left hander... I want to get 5 perfect so that I can catch 6 just right. The breeze is strong enough that I'm having to take the "big bike" line through 6, which is fully squared off and in a straight line. The few first laps, I couldn't be lazy about my line or I'd have to chop the gas to keep the bike on track over 6. So anyway, I don't really notice the leading trio as I work from 8 around into 1. 8 is so windy that I can't go through flat out... I didn't have quite the speed to pull 6th like normal, and when I did have the speed, the bike was all over the track. I ended up just running 5th for all it was worth and only briefly catching 6th if the shift light stayed on for long. I didn't stay normally tucked and fully hiding behind the bubble, instead I wouldn't exactly hang off. I'd rotate my body around the bike to the right, but staying close in so there wouldn't be too much wind drag. This seemed to work OK.
Nine was ballsy, like the pic above... only with more wind. As you transition from 8 into your approach into 9, you turned right into the wind. So the wind is almost perfectly from right to left in the pic. Only today, I'd pin it in 4th to get drive into 9. The wind helps you in this turn so you don't have to worry so much about running off the track. Bagging out onto the straight... seeing that I'm missing the dirt and the cone on the hot pit entrance "gore point", I put my head on the tank and watch for the shift light to catch 5th. I look side to side to ensure I'm still going straight. I pop up real quick to check out the starters - yup still far away - head back down. Another pop up at the line and then I notice the T1 corner worker waving the yellow. Hmmm. No red flag, gas still on, but head up now. Revs low enough to just stay in 5th into 1. Then I see a rider outside of 1 somewhere and I first hope that it's not Zina and see that the rider isn't in all black. OK. Now back to task at hand... cones looming large. Look at the stands and the curbing. Rotate my body around the inside of the bike and tap the brakes go down two gears as I drive into the wind blast and apex in 1. Once I see the wind didn't drive me off line, I go WOT. I stay fully tucked and try to keep enough speed on to drive out near the edge of the track. Bring the leg in and totally hide behind the screen. Shift light. Fourth gear on the 1-2 chute and keep it pinned as I rotate my body off the right of the bike while fully tucked to go into 2. I repeat my performance and on the next lap but devote more time to looking at the fallen bike and I think it's the fast mystery new guy. Huh... no ambulance, no dude, so he must've been OK. Back to the race... I keep on the gas and seem to be catching up to a rider, but they're a ways off. And then I get the checkered flag! I sit up and look behind to an empty track and pull in. Our cheerleading mob confirmed that I did get 3rd.
This month's aprilia race had 10 starters! I think that's a record... And now it seems the "New guy" who's hugely fast is going to be a regular WSMC attendee, so I get the feeling my podium streak is in a bit of jeopardy! Oh well... =) It's good to have some fast folks to try and learn from - and he's really nice, so it's not all bad. Besides, there are plenty of fast folks who just seem to not show up on their RS250s and me getting wood means they didn't show. =) We go out to have fun and try to improve. We're certainly doing the former and I guess the latter happens as a result of seat time.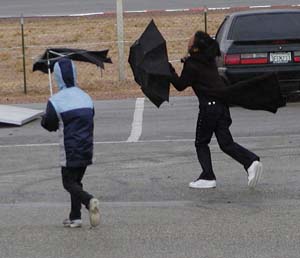 We park, put on the warmers for the slow cool down and see the clouds coming... I hurry up and start the process of packing. We get the bikes in the trailer and all the rest of our crap in the shelter as the winter rains fall. Sunday was massively different from Saturday!! After actually getting everything packed, the rain got serious. We were stunned as WSMC announced that the novice middle weight race was next, followed by the Toyota Cup Formula One main event race. Much to my surprise, none of the novices crashed... I was very happy for them. I heard Kelly Daugherty's name mentioned on the PA, but I didn't learn until later that she finished 2nd!
We milled about the pits waiting for the end of the day so we could walk the dogs and take down the beacon. Helped one very "High on Life" Kelly load her bike and then we hitched up and watched the 650 SBK race, the last one of the day. We were pretty amazed that the day's racing was over before 3pm! After the corner workers got picked up, we walked out through the turn 1 gate onto the track. It was quite the sight at the top of turn 4... you look down at a quiet and peaceful racetrack... a beautiful sunset to the northwest and evil looking clouds to the southwest. We headed down into 5 and took the crash truck road back to 1. Grabbed the beacon on the way out and had a pretty nice drive down to Lake Elsinore to an unusually packed Sizzler steakhouse. It's a great place. I don't know if it's the management inspiring a good work ethic or what, but the service at that restaurant is always outstanding. Not excellent, truly exceptional and unexpected - like the great time we have racing with the wsmc.
=)