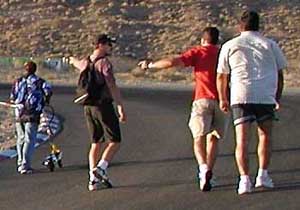 This weekend kicked my butt. We blew off the FastTrack Friday track day before our race weekend. It's the first time this year we ditched on the extra day of practice. It also made the weekend seem a lot shorter.
Friday We left San Diego Friday just after noon and hit a little traffic through inland empire region, but nothing bad or miserable and got in to the track before 4. As we drove around, we spotted fellow DRC member Bob leaving the track. Found our usual space in turn one and got to the task of unloading our bikes to claim the space and help speed our setup Saturday morning. We got done and repacked some loose stuff in the van and drove around the pits. In the turn 9 area, we ran into new WSMC bud Scott Cleff and started the usual BSing routine.
It's kinda funny... I tell him we're selling our used Zappy electric scooters and next thing you know, there are three of us literally racing on them in the pits. So there are 3 of us (Scott, Z, and me) circling the T9 pit area at like 5-8 mph all acting like we're in the 550 superbike race. Of course, Zina walks on us in any straight. Then Scott sees Zina riding the scooter by sitting on it and copies her, only in a much more wobbly form. Scott is riding the slightly faster of the used ones, Zina's on the slightly slower used one, and I'm on a new one. We start off up the pit lane with Z in the lead and I run down Scott pretty quickly... pull alongside and bump him as I pass. He started swearing and I bump him some more. We were laughing so hard that Scott actually managed to crash!
After the ZapGP, we set off on a track walk. Pictured above is Scott, me, new-ish guy Yan, and AFM racer Dan. The strike through AFM is something of a joke/rivalry with WSMC and AFM pointed out to me by Scott. Poor Dan... dude is Scott's friend, drives 6+ hours to get here, and Scott goes and puts tape all over Dan's bike and truck's AFM stickers. Apparently, AFM riders are jealous of how awesomely our club is run, the year round riding, and our lovely track, so they trash talk... Yeah, willow is boring... it's just about speed, no skill required, blah blah. Heh heh, Boring. Try turning right at a buck fifty with both tires drifting and then a wind gust comes. =) Hey, I won't talk trash... all racers are fookin crazy and I bet we're better on our track and they're better on theirs. =) =)
Oh, more about that pic. Click on it and see all that pavement? Zina took this shot 1/3 way up the turn and is looking uphill! That turn is dang steep and waay tall! If you ever ride Willow, be sure to take the time and effort to walk the track at the end of one of the days. Amazing. Scott is walking on his line and I'm walking on mine. Who knows what we're pointing at. After this, we headed to Chuck's Pizza for some good brew and great pizza and plently more bench racing. My "first night" sleeping experience was again interrupted... this time by someone with exceptional bass in their car from a few hundred yards from our room. Woke both of us up... only now, we're at a REAL hotel (Desert Inn) and they had the Security Guard run the offenders off.
Saturday Woke up at like 5:45 and got ready, hit the BK for coffee and juice, hit Albertsons for ice and water and to the track we go. Got in, got set up and Zina ran off to do her internet updates while I got out to practice. I tried to give AFM Dan a tow but going into 3, I looked around and no one was there. Turns out, he had his fuel switch to "on" and ran out of gas. Doh!
This weekend, I'm trying out Bridgestones in my quest for reasonably priced tires. In the first two sessions sessions, I noticed that the Stones felt a bit loose and got a bug step from the rear and pulled in. I'm running the 120 001 type 3 up front and a BT56SS 160 out back. Lenny, the Stone tire guy, says to add some air to the rear and we up the pressures. I started out at 30/30 and that change put us at 30/31.5. My overall best time on the RS is a 1:35 and my best thus far today was a 1:37 flat.
For this month, I also made some suspension changes, putting proper springs all around and gold valves in the forks. So I rode around some more and diddled with the clickers. It seemed to help a bit, but when I really turned up the pace, the Stones felt kinda wierd when compared to Dunlops or Pirellis. That 1:37 ended up being my best time of practice. Zina finally got to come out and play in the latter half of the day. Oh, and "bad Andy", another DRC member, showed up to check things out and lend his support.
Saturday Solo Series The ultimate round of the wsmc "endurance" races. 50 more miles to go... For some odd reason, wsmc decided to run an extra rotation of practice, so the solo races started 45 minutes later than normal. All this does is kinda add to the glare in 9 and 2. Going in to the race, I'm pretty nervous, as my tires kinda suck and Zina is faster than ever. I'm gridded 5th and my start kinda sucked as always. I wasn't too worried about it, though, and didn't scare myself in turn 1. Going up over the omega (turns 3-4-5), I could hear fellow DRC member Mel behind me, so I poured it on a bit. I noticed that Zina and a few other folks kinda stretched out a bit and I realized my casaul start hurt a bit more than I wanted.
After a few laps, I started closing in on Zina, but also the fast movers started going by. Chuck Graves was first. Didn't notice the others as they flew by, just worked on my line. As I really started homing in on Z, Chuck came by again on the way into 9 and it kinda bummed me out, as I had to brake for him, which ruined that lap. Zina is so massively fast on the front straight that the drive through 9 is basically the most important turn while dealing with her. A couple laps on and I'm starting to tailgate Z... Crossed flags indicate 10 laps completed. Damn! If it were our usual sprint race, I'd be long beat by my Z!
So that's it, I'm getting by her on this lap... I get my usual great drive through 5 and over 6 onto the back straight. I start setting up in 8, but have to back off just a sec as she closes down on the apex but I get right on it again. She eases left and I keep it pinned and "go in huge" ... only not as huge as I did last month to edge out the ever improving Donnie Libasci. I'm up next to her on the inside and I see my line approach, so I totally hang off and reel the bike in. But it doesn't move at all!! F-ck! it runs straight as though I did nothing! So I firmly plant my knee on the deck as I'm drifting towards my wife and ease out of the throttle the slightest of fractions and the bike gathers up enough traction to turn. Phew! It would make for a bad weekend to take out my wife in the first race! (or, I guess, in any race) I get by and salvage something of a drive on the exit (I waved, too) and she stays behind me. I'm well aware that it wouldn't be by choice!
A few laps on and we hit some lappers that I'm able to get through relatively cleanly (3rd slowest lap of my race)... I know that passing isn't Zina's forte, so I'm hoping that they balk her a bit (and they do). As the race wears on to the end, my arms, legs and back start cramping a bit as I crank it up and hold on. I get the white flag and it's all I can do to get around the track... I'm thinking as I go from 4 to 5 that this really is the last time I can do this as my legs protest the transfer from right to left. The last lap of the race is also my fastest of the event, a 1:36.20. I take the checkered flag and look back and all I see is 666!! Damn! I shake my head in disbelief and wave to the crowd, which is enthusiastically waving back. Waaay cool. I look back again, shake my head and give Z a big thumbs up. She ripped off a 1:35 reeling me in on the last 2 laps after passing those other guys! That's tied with my best ever RS250 time! It won't be long until she starts beating me in a right and proper way. I sure the hell hope it's not tomorrow!
Saturday night involved again hitting the Golden Cantina for eats with buds. Tonight was with DRC's Bad Andy and Jay McDaniel. We gossipped and about passed out and went "home" to the motel room to crash out.
Sunday We slept through the alarm, but only 20 minutes, so no great loss. We show up and repeat Saturday's morning routine where Zina helps out setting up, gets her tech slip, and disappears to go working again. I got teched (and turned in my contingency forms) and made it for the second morning warm-up. Don Libasci was out and kinda went by me so I repaid the favor in 9 and was rewarded with him getting by me before the start-finish line. This kinda woke me up. As I started to really follow him around, a pack of rabid 0-500 fast guys descended upon us and I fell back a bit. Then the session was over.
I pulled in, tech'd Zina's bike and got ready for the riders' meeting. This month was kinda unusual in that they announced a 5 minute call and anyone that missed the 5 minute count down would grid at the back of their starting wave! They made the 5 minute call and I visited Zina in her little work environment and warned her to come right away. Being stubborn, she declined and said to go on... so I went on and setup my folding couch in the hot pit and waited. As they counted down the final seconds, Z came running up. They talked about the usual stuff and drew to the moment I was waiting for: the $250 cash prize drawing for wsmc members that started all 5 of the Solo series events. Kenny Kopecky drew it out and I was anxiously awaiting. I told Zina earlier that I don't win anything and I wanted to win this. KK got someone to draw, they made a kabuki theatre out of it and he drew out a name... "Chris Kelley" I yell out "Woo Hoo!" and jump up and down.
After the riders meeting and Kenny hands me the check, I ask about the top 5 drawing and he lets me know that I got edged out by the other Libasci "scurge", Tim Knutson. Tim entered the race last night and won it, tying us in points for 5th. Obvisouly, he won the tie breaker. That's all good, as I got the two-fifty, and Tim's a hell of a rider and deserves everything he gets. I hope to be as fast as Tim someday... =)
Zina went back to the pits and dressed for racing and went back to the Press Area to continue working. I brought her bike to where she was working and parked it there so it would be ready when she goes to race. A lot of folks came by the pits and there was much BS-ing going on... as the races completed and ours drew near, I got ready and finally headed out with the 2nd call. Although I was still nervous about Donnie, I wasn't as nervous as before when pulling out on the grid. Did the warm up lap and gridded 3rd.
The starter did his usual great starting dance... and we're off! Andre pulled out a great start and Tim K was to my right, but didn't get quite the start I had. I was surprised not to see Zina streaking off into turn 1 as the rest of us shift into 2nd... Tim kinda faded and I didn't let up. As I started looking into 1, Andre fully twists around to see who is where. Oh, this is right as he's about to turn into 1. Dude is amazing... We get around the track OK and I'm kinda surprised Tim (and Donnie and Zina) didn't pass me anywhere. I think the first lap may have been a bit processional. I forget if it was the first lap or the second, but I went into turn 9 and the rear tire slipped pretty big and stepped enough to cause me to totally get out of the gas. I about crapped myself... up the straight, through 1, and into 2, Tim K goes by on the entrance. Can't blame him... I was so out of the gas after losing the rear in 9. Every time I tried to get on the gas in 2, the RS250 was just like the 916: the back of the bike would hang out and stay out with the throttle. It was near the end of the race that I pretty much just modulated the throttle and rear of the bike with frustration and fear, hoping to hold my fellow competitors at bay. I cought the white flag and went into 1 and out of two, I stole a very quick glance and there was a bike behind me! Daaaam! So I keep it together and protect the inside line through the omega and work on an awesome drive through 5. I let the bike draw out to the dirt after 6, hug the dirt through 7 and dive in to the dirt in 8. Setting up for 9, I wasn't real sure what to do, so I just drove up the middle of the track and turned into 9 as strong as I dared considering the rear tire. I got out of 9 and totally hid... my head on the tank, looking out the side of the bike at the dirt along the track. Across the s/f line an I sit up and look back (while waving to the crowds in Turn 1 grand stands). That bike I caught a glimpse of was from a wave behind us, a vintage dinosaur competitor. The folks in turn 1 were pretty enthusiastic and waved and I waved back mightily, as I again got wood.
Zina got snookered by Donnie... she protected the inside line through 9 and it hurt her drive and he just drove around on the outside and she wasn't able to chase her down by the start-finish line. After the race, we were in the pits and I decided that it would be foolish and dangerous for me to compete in the 550 superbike race on shot tires. Zina went back to work and I kinda went about packing up some stuff and just trying to stay hydrated. Donnie stopped by to talk about the race and we shot the sh-t a little too long and he almost missed the start of 550 SBK! Sorry Donnie!
I later got my trophy and check for third and went back to the pits. Cleaned up my bike and people really started streaming through the pits. I watched some races with fellow wsmc competitor Kelly #500 and finally cleaned up Zina's bike. She rode with Z and I in h/w novice and had some bad luck and is waiting to get back on the track. Later on, Z got out of work and we packed up our crap and finally started leaving. Stopped by to BS with Kelly and new wsmc lady racer, Sue. Sue was a hard core ama supercross racers with more scar tissue than I've got fat...
With a new freind made, we eventually left and hit the road for our trip home and Zina's favorite moment of the weekend: Sizzler.
=)