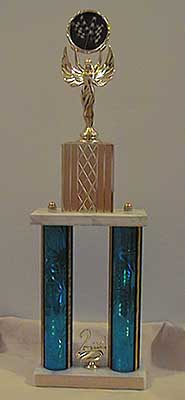 What's that to the right? Looks like wood to me! I can't fookin believe that I got my first expert wood from Willow! I'll get on with the weekend report...
Friday was hot as ever and I wasn't real inspired. I did a bunch of 1:35s, which is kind of my "brick wall" right now. Also note that it's my M.O. to do real well in the first couple sessions on Friday and just suck the rest of the weekend. It's only Wednesday night after the race weekend and I can't remember much from Friday... I remember hitting a few Intermediate sessions to try and give a pit-mate, Steven, some tows, which he said helped a lot. I think I also tried riding around with Zina a bit. She's effing fast. I went around and got in behind her and pretty much was stuck behind her, unable to step up with anything to pass her! This weekend is looking to be when my wife beats my ass. =( I do know that I pushed the front tire in turn 5, so I guess 2.5 months of abuse is a bit much for the Pirelli SC1. Not bad. Certainly better than the rear.
I do know that we were talking with some other racers about lodging as we're pretty fed up with EZ8 in Lancaster. They just don't care about the customer. I have a feeling it stems from the owner/manager and the employees just act on the culture the management nurtures.
So we find out that the Desert Inn offers a Willow discount. Mention Willow Springs and you pay $55 for a room that lists for $90+!! After dinner at the Golden Cantina with Jay, we stopped by there on the way back to the dive also known as EZ8 and got our room for Sat nite. time warp: We did stay there Sat nite and I'd describe the Hotel as a 4 star place - in 1975. It's still nice but is a little aged. The staff is nice and there are tons of amenities... pools, coffee maker in the room, etc etc. We made reservations for Sept Willow for WSMC and AMA and also for Oct WSMC weekends.
Saturday
Dragged out of bed kinda late. Again, we did the skip Sat practice thing as we ran FastTrack Friday and are doing the Sat nite solo series. I think this actually hurt my lap times, as I'm not out riding with my fellow competitors. We'll have to work on that in the future. I spent Saturday changing my tires and BSing with a lot of folks.
I stopped by the Pirelli tire vendor to talk to them about their prices. They're pretty unapologetic about charging full MSRP for rubbers. That kinda sucks as any Parts Unlimited dealer can get the same tires for like $100 less. Screw it... for that kind of money, I'd just buy Dunlops from Dennis. At least he's not greedy. Next month, I'll try some Stones. No one really knows much about the Bridgestones, so I hope they work out OK. I'll run whatever the new, voodoo 120/70-17 front is and the BT56SS rear. Did I mention that it was HOT? I pointed the temp gauge at the stuff in the pits Friday and everything was like 116 deg F. Saturday, everything was 111 or 112 deg F in the shade. Late Friday afternoon, the pavement was 145 deg. Mid Saturday, the asphault in the sun was 154 deg F!! The bed liner in Steven's new Tacoma was an amazing 171 deg F !!!
Tire Recap Here's my technological rundown of the different tires we've tried on the Aprilia RS250s... Dunlop: D207GP front and rear seem to work pretty well. We get like 2-3 months out of them and pay like $360. Note that our "month" is a bunch of laps Friday and Saturday, and like 32 laps on Sunday. The new D208GP 150 rear works very well, but Zina wore hers out in a month. That's unacceptable for a $192 tire. Pirelli/Metzeler: The soft racing front lasted me like 2 and 1/2 months but the Dragon Evo 160 street rear only lasted one month. The next month, it had heat cycled out and lost a good bit of grip, even though it had plenty of tread left. Further, the track side vendor at Willow is charging $80~100 more for the tires than a shop that helps out its racers would charge.
Solo series
We went and got our carry overs for not practicing Saturday and I applied $10 of it towards the practice starts and also got my tech slip for the Solo race. Running the practice starts gave me a chance to survey the track before the race and also get a few laps on the fresh rubbers. We rode around on the warm up lap and gridded. Then we watched the other two waves launch and it came time for ours. The starter did his dance and we were off. Zina absolutely zoomed ahead! I was cheering in my helmet as I watched her lead the entire pack through. I noticed that a few people got by her and it was Tim Knutson and I right on her tail. Riding around, I couldn't believe that it took Tim like 4 or 5 laps to get by her! Then I got by Z, too. I can't remember where I passed Z... must have been 8 or 9. It was pretty lonely after that... kinda the usual routine: a few laps in and the leaders of the GTO race rip by somewhere. This time, it was Chuck Graves. I got to say "Hi Chuck" in my helmet and wished him well. =)
A while later, I got passed on the front straight by Akos. I helped him get a BUNCH of goodies for his "new" SV. I also did up his forks with the Race Tech Gold Valve Emulators springs, and all that. "AJ" was very happy with the setup. Good, as he beat me with it! =) I ran with him for the longest time and then kinda lost touch. Our times were pretty close. So, it was AJ that took my place from last months Solo GT Lights race. =)
After the race, we did the usual late afternoon packing up and folks started coming by. We ended up heading to the Cantina again. It was funny, we showed up there and there were two groups of people we wanted to sit with. The folks we were headed over with had a full table so we sat with the "usual" group in the bar. Well, I went to break the news to the 1st group and they had pulled up a table, so we were now obligated to mess with them. It turned out for the best as they were a bunch of wise-acres and we were probably a bit too noisy, but a great time was had by all.
The funniest part was the Trash Can story. On Friday, Stuman had rolled one of the big ass Willow trash cans to the gold wall to use as a canopy anchor and to help demark their pit area. Well Saturday morning, some newbie shows up and figures that's a great place to pit. (Clue: make your pit claims supremely obvious) Well, they walked over and the dudes wouldnt budge form the pit. Later on, Stuman was like, OK, I need a canopy anchor, so I'll get my trash can... Then the dudes show up and are like, "you stole our trash can". Stuman asked them to observe how many trash cans were along the gold wall. One. Then to see where the rest of the trash cans were. Other side of the paddock. These mother-fookin trash cans are 55 gal drums with like 10 gallons of cement in the bottom, so they're not trivial to move around, let alone 50 feet! It unfortunately took a good bit hot air letting on several folks parts to enlighten the clueless, but the deed was finally done and everyone could get on with their lives. Maybe it's funnier over margaritas? Anyhow, them turn 9 hooligans are a pretty funny bunch! Kevin Jump, stuman, Scott Cleff, Quiet Ryan, and the dude with the goatee (sorry, forgot your name!).
Sunday
We had a wonderful stay at the Desert Inn and got to the track after stopping in at Albertson's for the day's water, ice, and bananas. Side note: when staying at the EZ8 or Motel 6, we'd stop in and get Burger King coffee. Zina rather likes BK coffee as it's mixed in a machine and is consistent from month to month. Since there's no BK near the Desert Inn, we tried out the McD's near albertsons. Zina gave McD coffee a failing grade...
We got to the track, got tech'd right away, and built our pit. Everything went well and we got out in time for our practice sessions. It seemed a good bit cooler on Sunday (as the weathermen we watched on TV predicted). We were thankful for this. Unfortunately, the breeze did pick up somewhat. The morning passed pretty quickly, as a bunch of folks we know stopped by. It's kinda cool that folks came out in that oven to watch us race!
Our first race was the 6th race of the morning, the Aprilia Challenge race. Its start got delayed so the crews could clean up after an accident. We went out and got started... where's Zina? She didn't rip by on the start, so I kept my head down. Going through 2, I saw a ton of smoke come off the bike in the lead, Tim Knutson. I likened it to when a 4 stroke blows it's motor, but Tim kept going. Andre, resident Aprilia Shaman of Speed, backed out of the throttle and started pointing at Tim in all the turns. The smoking was pretty huge whenever Tim would lean over but stop on the straights. He got the black flag... then again and was gonna pull in. I guess Andre was checking out Tim's bike or something, as they were practically stopped in turn 9. I piled up on them and was like, screw it, this is a race! Andre can get by me anywhere, so I went for it and actually led across the start-finish line!!
I got about a whole lap in and then Andre zoomed by on the entrance to 2. =) It was a great pass and he wasn't anywhere near me. I kept my head down and got my first expert trophy!!! For 2nd place! It was my goal to podium before the end of the year! To explain, there are like 5 folks that are faster than me. This month, 3 of them didn't show up and one of them DNFd.
Rolling back to the pits was basically like somekind of party-ing homecoming. It was pretty awesome to see all our friends cheering us on. =) Thanks everyone!
Race 10 was 550 superbike and it came up reasonably quick. We got out and there were a LOT of folks on the grid. It seemed like I got an OK start, but there were a lot of folks ahead of me, Zina included. Going from 2 to 3, I went by Z on the right and someone else went by her on the left. In setting up for 3, as I started leaning it in, the rider on the left quickly shot over to the right. I guess this was to setup for the turn, but it about caused a collision. This seriously deflated my sac. Anyway, so I kept on going and in like lap 2, the wind gusted as I went into turn 1 and radically altered my line. I was pretty sure that I was set up for an off track excursion, but tagging a little brake and climbing off the left of the bike kept it on the pavement. And WOOSH goes by someone. F--ck, it's Donnie! He's Zina's nemesis and I was kinda surprised to see him go by. I thought "OK, no worries" so I kinda just rode behind him. Donnie's got more speed than he had previously and I begin to wonder about this all. Going into 8 and 9, I saw some advantage and an opportunity for a clean pass, so I took a tighter line through 9.
That worked out well, but Donnie pulled up alongside me on the way into one. My fat ass must block some serious wind! I figured I'd just keep going and he'd brake for one. Instead, he just starts turning in! Hey - I wasn't expecting that. It was real slow and easy but freaked me out enough that I backed off and gave him the turn. At this point, I started thinking about it all... I figured if I got by Donnie somewhere, he's pretty tired of eating Kelley exhaust, so he'd get by me again somewhere else. I thought I should just wait until the last lap and try and get him in 8 or 9.
So I kinda cruise around keeping Donnie in sight and I take a real long look over each shoulder on the straight and I see Zina a ways back, so I figure I can relax for a little while. We go around and Donnie's got like 1.5 or 2 seconds on me, so I step up some. As we finished up the penultimate lap, I really pour it on in 8 and 9 and take the white flag like 1 second behind Donnie. Now I'm wondering if I can catch him at all... through 2 I keep the gas on and do pretty well up over 3 and 4 then I get a killer drive through 5. Up over 6 and I see that Donnie's closer. I stay absolutely tucked with not a single bit of me sticking out, even through 8. We pull into 8 and I'm very close, but I'd like to be a little closer to ensure the pass into 9. Daaaaaam, I may very well lose out to the Labasci with the new found cajones!
As we transition from 8 to 9, I just keep tucked and the throttle pinned and Donnie goes from mid track to the left third... I just keep thinking to myself to go in with huge speed and make the turn happen. Then he sets up for 9 and slows a little. As I hear my revs drop off a little, I downshift to 5th but keep the throttle pinned to the stops and I roll off to the right of the bike. I'm in tighter than normal but see my usual line and I let off the gas for a fraction of a second to heel the bike onto it, with my knee firmly planted on the pavement (not quite a normal thing). My RS250 is weaving and wagging over the ripples and I catch the apex perfectly, about 2 feet off the curbing and I start to look for the pit wall, signaling the end of the turn. As the revs fall a little on the exit of 9, I grap 4th to keep the momentum... and I go back a little to the right. Shift light blaring, I wait until eleven-five to catch 5th and I put my face flat on the tank and my bum in the air. All I see is track to either side of me and I pass the stripe!
This was the hardest I think I've ridden! That 9th in 550 Superbike was certinaly harder fought than my 2nd in the Aprilia race! Anyway, afterwards, I went to talk to Donnie and also the other guy who did the zippy maneuver in 3. I was a little whinier than I should have been... as this was my first real wake up call to axe murdering. It's not like we're playing with Marquis of Queensbury Rules here! Ultimately, no one crashed, so it was all good. =) Donnie and I gabbed a bit and had a good time. He said he was thinking while going into turn 1 beside me "Dude, we've got to turn!" Hehehehe, he didn't know that I'll play chicken into the freaking dirt... I just didn't expect him to turn in! Like I said to Donnie, it was very smooth and well done. Next time, I'll just run my line and watch the apex. =) =)
The other guy is a friend of mine and he totally didn't know I was there and was very sorry for whipping out like that. That's cool. I'm a little bummed that the race turned into such an axe fest, but being in it is how you quantify it and learn how to ride and "rub elbows" with folks. Haven't rubbed elbows yet, but I can see it coming. (I'll now admit to fear of this happening)
Zina issued some amount of concern over the Chris and Donnie war... "Back away from the Axe Murderers". Heheheh. She said she couldn't believe the moves we put on each other and agreed that my pass in 9 was in fact "huge". "I don't know how you didn't crash... You were so leaned over. It was like the 125 guys."
We got our trophies and checks for the Aprilia race ($60 for 2nd and $40 for 3rd) and we worked slowly at packing up. When finally done, we hit the road. I drove until I-15 and we swapped there so I could catch some Zzzzzzs until Zina's favorite event of race weekends: Sizzler. We stop in at the Sizzler at Lake Elsinore for some feed and then it's home to the doggies.
=)