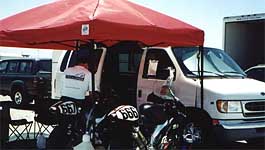 I sure hope y'all never tire of hearing me say, "Another AWESOME weekend of racing!"
Rather than focus on numerical results, I know that I improved my skills as a racer and we had another exciting weekend! Notice our killer pit... plenty of shade for the bikes and a little hospitality area behind for potential sponsors. We keep plenty of cold coke, root beer, and real beer on hand for guests; water, gatorade, and Cytomax for the team riders (and mechanics, too =). Will cheerfully welcome energy drink or beer sponsorships. Check out the race schedule taped to the passenger window. Here's the rundown, diary style:
Zina and I headed up to Willow for July's double points round at wsmc. Thursday night at the slEaZy-8 was kinda miserable in the brand new sheets and the songbird that started wailing at 2 in the morning. Z again helped out the Fasttrack Riders with their wimmin's session as an instructor and I rode in a couple of sessions. My Aprilia RS250 seems to have survived my rebuild in top form, which is always pleasing. Friday started out quite nice and I got up to speed in my usual fashion... I typically set my best time on a whole weekend in the first or second session on Friday.
As the sun rose, the "Breeze" started up and the mercury began climbing. As it got warmer, the Pirelli Corsa Evo 160 rear on my rs started really slipping around. It's cool feeling like Eric Bostrom until it hangs out about a foot and catches with an audible chirp!! I came in and got a d208 150 rear. It would seem that there's a reason people say not to mix tire brands due to profiles. While you'd probably never notice on the street (I never did!), as soon as the 150 got on the rear, the Pirelli SC-1 front started really pushing. I'd bend into a turn and then lean on it a bit more to get some more turn and the bars would go slack and the front would plow. So I'd have to get out of it, pick it up, etc. I also noticed that going from a 160 to a 150 really changed the revs in turn 8. I'd get good drive, but would pull a few too many revs.
While this is going on, someone lit a torch to the world's largest blast furnace: willow springs international raceway. Over about 2 hours, the temp must have gone up 10 or 15 degrees. I skipped a few sessions, but got out near the end of the day while futzing about on the Dunlop 150 rear.
Friday night saw us BSing with a wsmc rider we hadn't met in person before, and he's now added to the family of friends we've got at the racetrack. At the motel, new sheets and earplugs in my head made for a wonderful snooze. We slept in a bit, choosing to skip Saturday practice and just run the Saturday night Solo Series "endurance" race.
Saturday
Saturday was the day to sort out the tire situation, so I made the rounds talking to the tire guys. The Bridgestone dude doesn't have any DOTs for the aprilias (160/60-17 rear), so I'm back to Dunlop or Pirelli. My Pirelli front looks great, so I'm keen to keep it for a while, rather than buy another dunlop. Them damn dunlops are pretty spendy. So I talk to the Pirelli guy and get him to sell me another "brick" rear at a discount. They feel great, but don't put up with a whole lot of abuse and will go off with like 75% tread left.
Before I get this rear, we put the d208 150 on Zina's bike. I wanted to ensure that it went OK before starting on my bike. Since the 150 shortens the gearing a bit, I wanted to make her gearing a bit taller. Since her original 14/42 gearing was a touch short, I figured I could run a 41 rear to keep the gearing the same. No 40s in the spares... But the chain is too long. So I look at the numbers and I figure that 15/42 gearing would work out... bolt up the cog to my rear wheel, Z changes out the front to a 15 and we find out that the chain length is OK. And then spend all the time getting the rear axle tensioned and keeping the chain alignment good.
With her bike sorted, I got my new tire on what was her wheel (her rear d207 160 was about gone anyway), fitted my Pirelli "brick" and my original 41 rear sprocket and my bike was good to go. I paid the $10 for the 3 practice starts at the end of Saturday practice so I could scrub in my new rear wheel and see the track before the 20 lap event. That went as planned and we all got ready for the race. I was kinda surprised to see the blue bike with the big #3 on it, as I don't think Chuck Graves had run a Solo series this year.
We started on the third wave (open and middleweights before us) and Zina got her usual 70 pounds lighter than me great start... our positions were pretty much cemented right away. The four faster dudes were in front of us and the three slower dudes behind us. I'm a bit faster than Z and made for some great racing as we were side by side down the straight at the end of the first lap and we went into 1 with me a touch in front. Z was gracious enough to back down a touch and let me by and I tried setting off for the dudes ahead. I was in touch with Jeff P on a FiZzer 400 for a while, but he's fast and pulled me.
Then came the fliers... The open guys caught us 5 laps or so into it, marking the beginning of me leaving extra room for others in the turns. I was pleasantly surprised to see Jeremy Toye (wsmc #1) whip by. I mentally waved and wished him well. =) Later on, someone passed me and going into turn 8, I thought, "Gee, this dude sure is buring the hell out of his boot." After lifting up into 9 (and I caught him, cos us little bikes fly through the turns) his bike kept smoking. Ut oh... we've got a smoker. So into 9 I'm frantically pointing at him. Then on the front straight, I'm pointing (while tucked) while passing the starter. Two laps later, he's pulling in off the black flag and the starter gives me the thumbs up. As the race wears on, the breeze picks up and I'm having to go up a gear out of turn 2 when I wouldn't normally. I'm also having to chill out a bit in 3 as the wind pushed me wide once. The wind also helps me keep it pinned in 5th gear going through turn nine. The race ends without event and we're pretty happy. Well, I am anyway. We ended up being the sandwich meat in the race... 4th and 5th of a field of 8.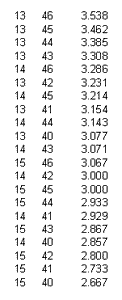 Zina's gearing turned out to be too tall, so we decide to go up a tooth on the rear sprocket. Our new double wide EZUp and 6'x9' pit carpet makes work a lot easier! About the time that's winding up, a wsmc follower and friend shows up and suggests that Z not run her front tire anymore, claiming complete shaggage. We look at it and mumble and what not and decide to do it. We park the bikes in the overnight locked positions and I put the front on a stand and pull the wheel. That way, we get an early start Sunday morning. We tried Chuck's Pizza and it was dang good - as well as the "Shiner's" Bock beer. Tall ass mug and a great amber lager - not really a bock (good thing). Between the brew and the AC on high I didn't need the earplugs and didn't hear tweety bird. By the way, Saturday, while still hot, wasn't as bad as Friday.
Sunday
We got in early but were still like #15 in line at the Dunlop vendor, but I get the wheel back and we're tech'd in time for the first practice session. Z loves her new gearing and does notice that her bike felt better in turn 2, meaning that the previous front was certainly shagged and she was pushing it a bit. Our races are #8 and 12. 8 is the Aprilia Challenge and 12 is 550 superbike. I've done 2 Aprilia challenge races and Zina has one 550sbk race already, so I start on the front row of the Aprilia race and 3rd row of 550. Zina started 2nd row of each. It's breezy, but the temperature is the nicest this weekend and nicer than the past two months outings.
While I wasn't overly nervous at the start of the solo series, I still get a bit overamped on Sunday. In a way, I can't wait to get over the anxiety, but I don't want to become jaded. In the Aprilia race, Z got a great start, aided by my mis-shift to 2nd gear on the green flag! I caught up to her in 8 and couldn't get by in 8 or 9. The breeze turned to wind and I couldn't get drive for shit up the front straight and Zina pulled on me! F*ck! I'm going to lose to Zina and I'll never, ever live that down! On the next lap, I'm thinking I'm going to get her in 8 or 9, but am again balked a bit and can't get by. I'm close in 1, but the wind really messes with the Aprilias and I back off big time. We're ambivalent to the wind in 6 and 8 (unlike big bikes) but really suck in 1. I give Z more of a gap through 4-5-6 as I've got something of a better drive up out of 5. I keep a tad of a distance into 8 and really pour it on and get into 9 under Z and just do my damndest to stretch that throttle cable. She didn't repass me on the straight, so there's either some more husbandly love or I'm doing well. I never did catch up to anyone and we finished penultimate and one better: 4th and 5th in a field of 6.
The 550sbk race was more of the same, but I didn't waste 3 laps getting around Z. I gave her room and went under her in 8 and was tantalizingly close to JEff P on his FZR400 and had something going on him until the wind redoubled its efforts. My times went from 1:37 in the opening few laps to 1:39 on the last lap. That would explain Jeff opening it up on me. =) Z set her best times ever, putting in a couple of 1:38s, which would probably be 1:36s without that effing wind.
We came in after the checkered flag not last and pitted and started preparing to leave at the unusually early hour of 2pm! We were 7th and 8th in a field of 11. As we packed up, wsmc decided to combine the to remaining nervous (oh, novice) classes into one event... middleweight and lightweight. Racing was concluded and the winds picked up even more. I think it was the heaviest sustained wind we've seen at willow in a few years. The drive home was great... Z did some of it and I snoozed. We got Sizzler in Lake Elsinore and home to see our doggies before dark. And I must be getting more used to racing, as the blisters on my hands aren't as big as the last few months.