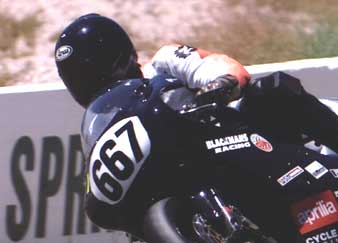 I was really tired Thursday night and looking forward to some sleep. We pulled into the EZ8 in Lancaster. No TV remotes left, so we had to get one the next morning. We get to bed and I yawn a few times and anticipate yummy sleep. A while later, I wasn't asleep. Much later, I still wasn't. I thought, "crap, it's late and there's no way I'm sleeping now," so I got up, and went and got some brews and a Sourdough Jack. After drinking a Heinie and chomping on my burger in the motel parking lot, I returned to try and get some sleep. About two instants later, the alarm went off.
Friday was another Fast Track Friday or the equivalent of a "promoter's track day" before a race weekend. Zina got to be guest instructor for the all ladies session, so she rode in advanced group for free, while I consumed some vip pass. It was kinda funny... I don't know if it was the first time out or the second, but there was this gixxer 750 that just slowed down too much into 2 on the warm up lap. So I went around him. Then he goes by on the way to 7... and totally stops in 8. Guess who got passed again? Then he goes by again on the straight and manages to keep far enough away that his straight line speed overcame my cornering prowess. =) Some dudes from motorcycle online (motorcycle.com) were there going either really slow or just plain slow on an RC51. They should have had 20 mph on me rather than the other way around. Anyhow, there was a wsmc racer out there on a gixxer or something that about plowed into the rc51 while I was setting up to go around it. Anytime you dudes want to see the fast line, lemme know, I used to race my 916 and would bag ass into 8 at a buck forty five, not the buck-twenty like on the RS250. I think it would be fun to haul a passenger around the Big Track.
I got my best times of the weekend on Friday, not too surprising seeing some of the contributing factors (more later). I was able to go from 1:39.3 in my inaugural 8 laps last month and do a bunch of 1:35s. I was pretty pleased with the progress. Indicated max speed was 130 mph with an overall average of 78 mph. This includes running in the pits, too. I did like 134 miles Friday and it was fugging hot.
To cope with the heat, we started using Cytomax. We bought a small-ish $30 tin of the stuff that had like 27 scoops in it. Turns out they recommend 12 scoops per gallon of water! Thankfully, that turned out a bit strong (at least in the tropical fruit flavor) so we diluted it down twice. I'd get it to 1/2 empty and fill with more plain water. So 5 to 7 scoops per gallon is more like it. That reduces the cost to $5 to $7 per gallon. But I didn't get tired, weak, and dizzy like I usually do when exposed to the extreme desert heat, so it was worth it. We also mixed gatorade fruit punch in another gallon jug and went through like 9 gallons of water over the weekend along with several small bottles of gatorade.
The breeze picked up Friday afternoon. With some of the intense heat (and after lunch) I decided to lay down for a while in the pits. During this, the canopies would protest under the occasional dust devil, which were among the strongest of breezes I've seen at willow.
Saturday practice went well, all things considered. My times weren't as good as Friday, but there was more breeze and it was still hotter than hades. There weren't too many crashers during the day, which is always a good thing. I just kept going out and worked on familiarizing myself with the Aprilia.
I'd have to say that the Aprilia is a bit more work to ride than the 916. Some would say "Duh, the `6 has a ton more power". True, but it doesn't feel that way... you really need to get the turn in point right and you need to keep on the gas forever. I think the Aprilia has like two more shifts per lap than the 916 did, so it's not like I'm totally rowing the gearbox all the time. The RS turns a lot better than the 916... and if you can hear the pipes, you're in the power OK. Maybe it's just a matter of recalibrating my entry speeds and getting used to the RS. Since the RS does hold its lines better than the 916, I can run in a lot deeper without running off the track on the turn exits. I was to the point where I had a pretty good rhythm on the 916 and I liken going fast to timing. You get on the power, brake, turn in, etc at roughly the same point and time every lap. One thing you really notice on the priller is how much it slows you down to actually navigate a turn. When going into 9, you scrub off all kinds of speed, so you really need to go through there on the gas just to keep a steady pace. If it took me 5 months to get the 916 from 1:37 to 1:31, I hope I can do roughly the same with the Aprilia.
All day, Zina was really on the fence about running in the Solo Series, wsmc's "endurance" race. At 20 laps (50 miles) it's not a true endurance race, but compared to the 6 lap sprint races that are most of Sunday's races, it is a long way to go. As the day wound down, a few other Solo Lights riders pressured zina into running it. Wsmc has practice starts at the end of Saturday practice. These are to let the new racers get familiar with how wsmc does starts. There are three separate starts and wsmc allows expert racers to pay $10 and start on the second wave. Well, they get going and on like the second attempt, a few novices got hooked up and like three of them went off into turn 1. One rode around and got back out, another ditched right away and a third rider fell off his bike and it ghost rode half way to the tarmac heading into turn 3. They eventually got that cleaned up and made first call for the Solo races.
We went out on the warm up lap, gridded, and waited while the other two waves started. We got our start and it was interesting... there were a few EX500s, a FiZzeR 400, an SV650 and us Aprilias out there. Not sure who else, but I think those were the bikes. One of the EX dudes and the SV650 dude pretty much checked out from the start of the race. I'm not sure what my position was into turn 1, but I know Zina was ahead of me. Sometime around 2, I realized my lap timer was off, so I pressed the on button and got back to the task of riding the track. Zina's not slow in the least and it took me a while to start making plans on her but was able to catch her into 9. When she let off to turn in, I just kept on the gas and ran in on a tighter line. I think this moved me to 4th for the Solo Lights. As time went on, we started catching up to the back of the 600cc (Solo GTU middle-weight field). This was about the same time that the haulin butt mo fos caught us. First was Cesar Meza (wsmc #60) and not far behind were a couple other GTO bikes and then Kenny Kopecky (#27) on his R6.
In the last couple of laps, I went into turn 8 like ever before and the bike lost power. It was like I went to 1/2 throttle. As I shifted into top gear, it wouldn't pull it and started losing revs, so I backed down to 5th. It wouldn't hold speed through turn nine, even WOT and I shifted to 4th to get a good drive out of 9 and it just kinda blandly slowed down and just motored along and didn't want to rev out. At start/finish, I looked back to an empty track put up arm and leg out and went slow and wide into turn 1 then pulled off to the inside past the apex of 2, handing 4th to Zina.
In the pits, it sounded normal, so I thought it might have something to do with running so many laps in a row. Frank!'s GSXR had a mystery fuel pump failure, so he's got two months' worth of DNFing, too. We packed up our crap and went and grabbed dinner with Dauv (#123) and Frank! (#79) at this place called the Basque Villa restaurant. Man, that place was both strange and great at the same time! They bring out one big portion of the food and then everyone digs in. I kinda liked it... no real waiting, plently of great food, with above average service, too.
During Sunday practice, it just had no power and I couldn't even stay with an Ascot 500! Dude was sitting up going into 8 and I'm fully tucked, throttle pinned and he pulled a bike length or two on me with his 40 or 45 hp! I knew right away that I wouldn't be running all my races. Zina kept trying to get out of racing in the heat and tried talking me into running her bike all day. Frank!'s 748 wouldn't start for one of his races, so I gave him a push. Later on, it turned out that the connector fell out of the starter solenoid. After helping with that, Frank! suggested that Z and I split the races on her bike.
I got to work putting my tail section on her bike, taped over the last 6 on the front with white ducttape and applied a LP-USA #7. There was a nasty accident about this time in one of the 600cc events, which took both ambulances away from the track, so there were no bikes circulating. According to the WSMC news page wsmc racer Paul Wright passed away while leading a 600cc race. We didn't find out until Monday and we're deeply saddened to learn this. We feel like our fellow WSMC racers are family and it's terrible that something we love so much can kill you. (Duh, of course riding bikes are dangerous, but that's why we do it on a controlled race course)
Back to Sunday... During the break, I took advantage of the down time to grab a beef BBQ sandwich the Willow crew were cooking up in the Turn 1 area. Mmmmm, it was good. I started pretty well in the Aprilia Challenge race. One of the Labasci racers pulled a touch on me on the start, but I got them back before turn one. There were like 5 dudes in front of me going into 2. I rode well and kept my head down. It was hot and it was difficult - everytime I tucked in, I felt like puking. I kept at it as the fast folks pulled on me. After a few laps, I looked around on the straight to see if anyone was near me. No one was, so I ratched back just a little, not wanting to make a mistake. After the half way point, someone crashed in 3, so I got promoted to 5th. Took the checkers and waved to folks on the cool down lap. It's good to get the checkers and not finish a race spectating from the crash truck. I did a few 1:36s and then 1:38s after that, so a pretty good race.
We sat around and Zina's co worker (who showed up from San Diego) took in the Toyota Cup Formula 1 event and other cool racing. Eventually, Zina's race came. 550 Superbike allows 650cc twins and up to 500cc non twins street legal in the Americas to run together. So if a 500cc 2 stroke were legal in Canada or Mexico or whereever, you could run it here. Z did well and kept at it, even after the leader of the Formula Singles race leader totally took her line into 5. That's OK, he got his karma payback when his bike started smoking and he got black flagged. There were 5 dudes all battling for the lead, with #999 Scott Cleff being the class of the field on his clean EX500. Z brought it home in 8th. I'm glad I got to spectate, as I think this was the race of the day, with constant lead changes and close battling 100% of the time.
During her race, a nasty 50 mph dust devil kicked through turn 1 area and trashed our brand new canopy. It blew so hard that I took a step or two down the grand stands and was tasting dirt for mroe than a few swigs of Gatorade. Anyhow, we packed up our crap and got on the road home before 6pm. Given how much we lagged (and waited on the race shots folks due to the number of customers), we were shocked at the early departure time. Traffic was pretty good on 138 and I-15 and our dinner at Lake Elsinore's Sizzler was awesome, with good eats and great service.
I think the slowing times during the weekend on my (the "ugly") Aprilia could be attributed to the top end going off as well as the increased winds over the weekend. I was pretty pleased to turn in some 1:36s during the race. Zina's RS is setup more for her weight and it seems to dance around a bit in 2 and during turn in.