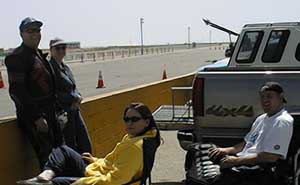 Look at that pic to the right. You say, "So?" Those are the faces of serious bike nuts. They drove 22 hours to race at willow springs in March and April. Eric, Crystal, Mel, and Scott. Eric's pussing out and not coming back until the Fall, but Scott says he'll be back next month. Unfortunately, Scott crashed Friday... we got his bike back together and he got more track time and his weekend wasn't a waste. I think Mel kicked his ass Friday night because Zina said Scott's leathers were loose in his butt the rest of the weekend...
You may have noticed that I got a 5th and 2 6ths this weekend. That sounds pretty good, huh? Unfortunately, the races had either 6 or 7 people running in them. heheh. Oh well. I wanted to get out of nervous (novice) class so I could ride with people that knew what they are doing.
We headed up Friday to do the promoter's track day (Fasttrack) with the Ducati Riders Club. Zina wanted to show the boyz how she learned how to ride, and boy did she!! I had a little unfinished business, too... there had been some trash talking in the past and it would seem it was all put to rest. No duh... what else is going to happen when person B gets like 100 laps of practice or more in 4 months and person A goes 3 times a year?
The track day went well, but I got a small slide out of my rear slick. I was a bit paranoid, so I got a new one. Then I realized that my air gauge was a pound off and that I may have had just a little too much air in the slick. Oh well. I saved it, so I'll remount it for the next FastTrack Friday that we go to.
Previously, Open Super Stock had few participants in it, so I was hoping for an automatic podium. WSMC super stock classes allow for few performance enhancing or costly mods. Fortunately, I've just really prepped my bike for racing, so it's OK. Aftermarket fairings and fairing stays are OK, as is removing gauges and lights.
I bought another set of OEM wheels and mounted my OEM brembo rotors to them. This left my other wheels without rotors, so I stole the Ferodo / Brake Tech Ducatil iron ones off of Zina's 900CR that she no longer races. I also bought a set of D208GPs, as SS rules prohibit slicks, too. So I ran my slicks Friday and Saturday then swapped the wheels out Sat evening. Sunday morning, I scrubbed in the D208s in the first session. It's kinda funny... by the time my brain was up to speed, so were the tires. Then, to preserve mt pricey D208s, I swapped the wheels between the two morning proactice sessions. This was kind of a dry run to see how long it takes under "Race" conditions, as I intend to do this between my races later in the day. Got the slicks mounted up and went out for the second practice.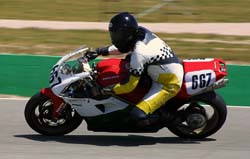 Race 3 finally came and they pretty much neglected to make any "calls" for race 4. So they finally did a "first and second call" for race 4. I was ready and waiting in my leathers for the white flag so I could roll out and get ready for the warm up lap. I was hoping my can of Jones Soda Company "Whoop Ass" would do me well. Did that and went out on my warm up lap. I was shocked to see how fast the experts do a warm up lap compared to the novices. The experts really fly through 8 and 9, while the novices puss out and go all slow. I really appreciated how they tore it up, as when I did warm up laps with the novices, I was concerned about not getting enough heat in the tires - and I was concerned for safety so didn't launch through the field.
Our race was the 2nd wave behind 750 Superbike. I'd know if I really sucked, as the 750 SBK leaders would rip by me on the last lap. We held up our hands and the 1st wave took off... time to set the 916 for 5000 rpm and hold her steady. The starter again showed the 2 board... flipped it for the one board, sideways, and as soon as him "flag" arm started to move, I was off and the drag race was on. The whole grid flew ahead of me into turn 1. A whole crapload of R1s. Oh well... They took off and left me to ride by myself, which I did. $40 for 8 laps and 7 points. Believe it or not, someone finished behind me, too! I got the checkered flag and pulled around on the cool down lap and went to grid.
I was initially surprised to see that I was gridded 4th in BOTT heavywieght! I actually write my grid positions on duck tape and stick it to my top triple before the races. (Duck tape falls off my gas tank... too much wax.) So I pulled up to the front row and got ready for the drag race. Even though I wheelied, I did better than with the R1s and was nicely placed going into turn 1. Then I lost my mind and upshifted too far for turn 2 and blew the entrance and everyone got by me as I ran wide. I spotted DRC member Frank! (wsmc #79) in front of me and I knew I could get by him near the start finish line if I could be near him into turn 9. So I was working on Frank! who appeared to be stuck behind two other 748s when I screwed my entrance into turn 1 on the next lap. That pretty much ended my race. I kept working on them and stayed in touch, but last it would be.
Yes, I did say 748s.
Yes, this is BOTT Heavy.
Yes, I'm slow.
It would appear that some effers decided that racing in their own damn class wasn't fun enough and had to come and pick on us heavywieghts. Only 2 of the 6 bikes were legal. Me and a dude riding a BMW R1100S. When I don't suck as bad as I do now, I'll pass those 748s and the 90+ hp SV650. Checkered flag and seven more points and I'm 14 points into my season.
I rushed into the hot pit then enjoyed the rush of motion sickness as I putzed along to get into our pit. Z was there and ready to help out. I had staged the other wheels and all the necessary tools to do the swap. As I got started on the rear wheel, Z was pulling the safety wire off the front end and loosening bolts. I got the rear wheel finished up and together we swapped the front expediently. I had it all safety wired before the end of the race after mine and even had time to go pee. I went, got back and drank another bottle of Gatorade and got ready for battle.
After second call, I mounted up and headed out for the hot pit again for the open super stock race. There were 6 folks and the start was kinda like the open mod prod race... I got a great start and everyone kinda took off. They didn't absolutely take off, rather kinda just pulled away. I got around the track OK and into 9, someone gets by. F-ck! So I'm on this guy like a cheap suit on a used car salesman. I stalk this guy for the next 5 laps... He walks on me in the straights (T9 to T1 and T6 to T8) and I reel him in in turns 9 and 2. Each time through 2, I try to get a better drive out so I can try and stuff him into 3, but it doesn't happen. Then I back off up through 4 to try and get him into 5 or through 5. Nope. I try to do my trick of pulling alongside to the right in 7, but he gets a good enough drive out of 6 to match my killer drive (with 30 less hp). So I try to make something happen in 9, but he kinda blocks the inside line. Dude totally balks me in one, but I can't really take advantage... still not quite good enough to pass folks that are only a little slower tham me. I end up tailgating out of 9 each time and he gets a bike length or two by the start-finish line. So I finished 6th, but someone protested someone else and that someone else got disqualified so I get 5th, which is good for 8 points. I now have 8 championship points in Open SuperStock, so I'm tied with Matt Wait. I've got 22 points overall, 18 more and I can go from "probational expert" to "expert."
After the race, I drank another bottle of Gatorade, peed, and started packing up my crap. Frank! and others stopped by and the general bullshitting started. I got my 916 loaded into the van and it would soon be time for Zina's race. So I rechecked her tire pressures, started her bike to make sure it would. It did. Frank! and I gave Z some more last minute advice and comforting words and she opened up her can o whoop ass.
Then Zina's race was next, so she got dressed. Crossed flags came, then the 2nd call and she went out to pre grid. I got the digital camera and the rear stand and headed over to the podium area. Oooo, had to pee again, so hit the House of Charmin on the way. Got out and stood near the start-finish line in the paddock. Z looked over and I raised my arms for her triumphantly and she nodded. I remember hearing many riders being called off that were sponsored by Lee's Cycles in San Diego and doubts started creeping in my mind... They mentioned rider number six six sicks, Zina Kelley, of San Diego, on the California Cycleworks Aprilia. I whooped and shouted. The starter did his kabuki theater and the pack took off. Zina was first into 1 but there were some antagonists trying to go around the outside. She kept on her line and the closest dude pussed and went wide and into some grease sweep, making something of a dust cloud. There was another dude there, too, and he went wide as well.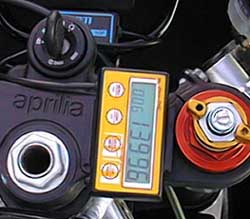 Z ripped on through unaffected and had a healthy lead through 2. She put her head down and just walked on the field. She must have had a second on them out of the omega (turns 3-4-5) and she just built on it from there. I couldn't believe the domination. The announcers were going off, too. It was real cool to hear 666, Zina Kelley, and California Cycleworks so many times. Before the white flag, she had 4 or 5 seconds on the next closest rider. At the finish, she was across the line before the next rider was into 9! I was standing in the middle of the paddock when she came in and waved her towards the podium. Some poor dude was trying to relax there and we took over.
Z did a 1:42 or something, then a bunch of 1:40 flats and her all time best, a 1:39.9. I like to say that at least one of the Psychoworks riders doesn't suck.
=)