March 16th~18th was the best feeling weekend yet.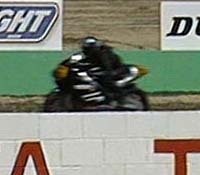 We got Zina an Aprilia RS250 for her to race. It was somewhat crashed and I put 40 or so hours of reconditioning into it. The main goal was to get her out of the Heavywieght Novice class. The 900SS Ducati just isn't competitive and she was always like last or near the back. Oh, and we noticed that most of the folks in the lightweight class were a touch less aggro.
Since the weekend really was all about Z and her Priller, I'll go on a bit about it. Zina absolutely loves the RS! I set the sag and she's not even using 1/2 the fork travel, so I guess some softer springs are in order. We went to a promoter day Friday to get her dialed in and she immediately loved how solid the RS is in turns 2 and 8. The air cooled Ducatis tend to dance in those turns and she didn't care for that. The RS was rock solid, giving her no grief what-so-ever. Her "comfortable" times quickly dropped to the best that she's ever done on her 900SS. She even out ran one of the promoter day instructors. He could just hang with her, but she didn't slow down for the turns. =) She did a bunch of 1:45s, etc.
Saturday was another day for her to get used to the RS. She went out and just worked on passing folks and getting her bearings in turn 9. In one session, she slowed on the straight and pulled off in 1. Out of gas. Doh! That's a hit on both of us, but there was zero fallout from that, so call it an inexpensive lesson. At the end of the day, the Pilots (Race Soft) were sawed off on the right side, so we spooned on a set of D207GPs after the last 0-500 practice session. Sunday morning came and Z couldn't tell a difference with the tires in the two practice sessions. For the Lightweight novice race, she was gridded 5th but screwed the start and went into turn 1 3rd from last. I told her to hold the revs at 8000 and slip the clutch while dialing in more fuel. She remembered 6000 and bombed the start. Zina apparently got mad and passed at least 6 people in 2. Later on, she said that everyone just lined up behind a slow person, so she just drove around all ot them. She then started slashing through the field and ran down and stalked the dude in 3rd. She would have taken him, but Z spooked herself by dragging foot in 1, so she chilled. A few folks timed her at 1:42.8~1:42.9, so that's a new record for her, as was 4th in the race! Next month, we're aiming for some Dunlop money (top 3). The D207s were barely even scuffed after 2 practices and a race, so they should have great longevity.
As for my race, it kinda sucked in some ways but I'm quite happy with it all. I finally mounted up some slicks, as I got tired of D207GPs wearing out in a weekend. Went out Friday with Fasttrack and immediately noticed that I got bounced around. Frank! (wsmc #79) told me to back off compression on the shock, so that helped. I was pretty busy focusing on Z, so I didn't monkey with my 916 at all during the weekend. Friday, I was doing well... able to go out and do 1:34s or so without much issue. Frank! went out and told me to put my sac on the seat and get through 9 without slowing down. It worked pretty well. He'd catch me, follow me, pass me, I'd get a tow and did a 1:32 and was pretty stoked over that. By the end of the day, I was able to comfortably hang out in the 1:34s, while mid to high 1:35s were the average last month.
Saturday came and I picked right up where I left off. I totally worked on passing folks, else I'd walk around doing 1:36s all damn day. Ended up pulling off a 1:31.88 and got real solid in the 33s. Sunday morning practice felt good - more of the same. After practice, I flipped the slick on the rear to help save the right side (left side for next month).

The actual race was pretty hair ball again. People doing stupid things everywhere. I was behind 2 different riders in turn 2 that were just dragging the crap out of something... One guy was dragging his pipe so hard, metal was visibly flaking off. The other was burning his boot; there was blue smoke pouring off it!

Of course, someone piled, too. He didn't know about the DRC shortcut from 9 into the hot pit lane and kept trying to turn while in the dirt. He walked away from it, but his bike was laying in the pit lane. If you look, that's me stopped along the front straight. It didn't quite happen right in front of me, but it was close. On the restart, I got a better start and picked off some dudes and got picked off by a couple, too.
Basically, the top one or two guys stagnated over the past three months. In january, the winner pulled in, packed up, and was drinking beer when I finished 9th. Last month, he had only taken a leak when I got 6th. Everyone else seemed to step up with me... I had the leader in sight on the straights (barely), but there were 9 dudes in between us. Overall, I'm real happy with 11th. I know I improved (never did see the leader guy in practice) and I didn't crash. Next month, I'm outta novice open crasher class and am planning on doing bott heavy and 750 Superbike. I'd like to not be DFL in either... =)