First race ever...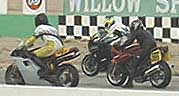 I'll leave it to Zina to talk about New Racer's school on her racer page, but it's basically an orientation. The only bonus was track time with some feedback and a few practice starts. This pic is us on the starting grid. Starting is kinda odd. Everyone goes, but I got held up by slower starters. Racing is like a track day, but with the intensity turned way up. You really can't relax. Granted, the race is only 6 laps, but you simply can't relax. Ever. You must keep your brain on overdrive and you must try hard all the time. In my first ever race, I was bummed to exit turn 1 and see a bunch of riders bending into turn 2. I just put my head down, got my act together, and just started passing folks. I finally got stuck behind a few dudes and couldn't get by. Damn near rear ended them going into turn 5, as I was looking through the turn to get my line and then they were practically stopped in front of me. I panic braked, locked up the front, got off the binders and got through the turn. Whew. I tried looking here and there, but just couldn't get by. Oh well, there's next month. =)
Results
I had no idea where I finished. I pulled into the pits after seeing the checkered flag and our friends and supporters (mostly from the DRC, thanks Paul, Frank!, Timmmmah, TJ, and ??) and learned I got 9th. Coool! That's good for 4 points. Typically, an hour or so after the race, the results are tabulated and taped to the WSMC office window. To get out of novice, a racer needs at least 10 novice points and 3 novice races completed.

Synopsis
It was as much fun as I'd hoped. Racing is difficult... the intensity is more than I thought it would be. I think that racing at the club level is safer overall than open practice track days. The other people riding around you ride that track, sometimes frequently -- they kinda know what they're doing. Likely more than the average street guy riding on a track day.