Track Days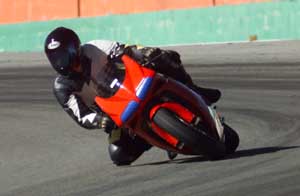 Track Days!
Zina and I really enjoy getting onto race courses to hone our skills and work our Ducatis.
There is absolutely no way to describe riding on a race track to those that haven't. You can try to say that it's like riding your favorite street, but there's no cars, no cops, no trees, no dirt, and you don't have to turn around to ride it again.
While those statements are true, nothing can can begin to explain the rush of absolutely blasting into a turn on a track. You get to go so fast that comparasions to the street just don't hold. You can go so fast, and test your limits so well, that you really cannot do it equally on the street.
If you're intimidated about going to a track (and everyone is!), Reg Pridmore's CLASS is an outstanding introduction to a race course. We had zero crashes on our CLASS day. That's something that cannot be said for any other track day that I have attended! While I've been going to Willow Springs for years, I only just recently became totally comfortable with the track. After like 15 track days, this past one was the first one where I welcomed riding the course without any nervousness in the morning. I was very happy and also ran my best times yet... a slew of 1:35s. I'm still slow in the big picture, but that's not slouching for a street guy without a race license.
We picked up our tempo of track days when we started attending with the members of the Ducati Riders Club. It makes track days much more fun to go with a group of folks with common interests. Plus, you can draw upon each others' experiences or resources. Many DRC members help others get their bikes to the track. They also help each other out with track prep, what to bring and even riding tips.
Combining in an organized group often gets you special perks on track days. We often run with Tom Sera's FastTrack Riders and because we pay in advance and have our own group, we get our own time slot in the normal rotation. That means we ride only with each other and set our own session rules. Club Desmo is another west coast organizer of track days. While they're Ducati oriented, all brands of motorcycles are welcome.
Logistics:
I see some mail from folks about what to do with their bikes and what to take with them to the track.
Bike Prep:
Tape over or remove all lights; headlight, turn signals, taillight. Note that with bulbs removed, they will not be subject to the stress and added vibration of a track day. I've lost a high beam and both taillight bulbs to a track day. Read below for Ducati specific bike prep.
Pull the fuses for any lights which you leave on the bike. You sure don't want the heat from the bulb melting on the tape!
Remove your mirrors.
Have good tires. Ensure that you've got at least half your tread. Reg Pridmore's CLASS says they want 95% of your tread intact.
Check with the track day organizer if you are required to drain your coolant and run "Water Wetter".
It is normally not necessary to safety wire components on your bike.
Overinflate your tires by 5 psi, so you can easily set thier pressures at the track (and not need to initially add air wth a compressor)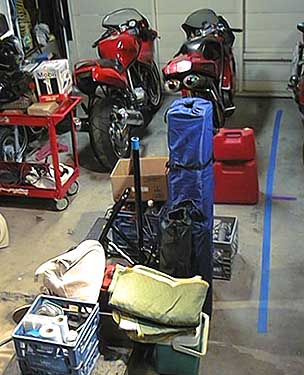 Sounds easy, doesn't it? You'll need to wear full or two piece leathers (sometimes Cordura is OK), helmet, gloves, and boots.
Stuff we take:
Tools and stands: everything you need to change your wheels and brakes.
I take more tools... folks know to borrow from me =)
Gasoline
Fire extinguisher
Folding canvas chairs (camping style)
EZ-Up canopy
Water and Gatorade
Oil and brake fluid
Paper towels
Moving blankets to protect the bikes from the gear as well as floor mats
Ramp - but you'll need this to load the bike anyway
Tons of tie downs. We need them for the bikes, but also to secure the canopy during high winds
Ducati specific bike prep:
Old style SS:
4 screws hold on the rear fender and tail light and turn signals.
Then just pop the single connector for the tail section.
Tape over your headlight and turn signals. We use colored Duck Tape.
Pull the headlight fuse so you don't bake the tape on the lens
Also pull the "Stop + Horn" fuse. I'd be beeping my horn all day if I didn't have this!
Also remove your mirrors. If you still have the OEM mirrors, replace them with large button head fairing screws.
Superbikes:
3 screws hold on the rear fender with turn signals. The only thing that sucks here are the 6 connectors in the tail section. I installed larger plug style connectors under the fender to allow for quick removal
Next, pop the connector for the tail lights (under the seat). I prefer to tape over the taillight, as it is tricky to remove and replace frequently
Pop off the right fairing and pull your headlight fuse as well as the "Stop + Horn" fuse. Leave the fairing off for now
Now, remove the forward three Dzus fasteners on the left upper and loosen the frouth, but leave it in
Remove your mirrors - there's a small screw on the bottom in the center. Then they pull straight out. Next, remove the two screws holding on the upper fairing
Tape over the headlight assembly and also remove the front turn signals
Now put the front fairing back on. You can use a zip tie through the mirror mount holes. I use a fairing screw
Reinstall the side fairing and fasten the left one
Monsters:
3 or 4 screws (depending on the year) hold on the rear fender with turn signals and taillight
Next, pop the connector for the tail section (under the seat).
While the seat is off, pull the headlight fuse so you don't bake the tape on the lens
Also pull the "Stop + Horn" fuse
I'm a touch lazy, so I just tape over the headligt and front turn signals
The headlight and turn signal assembly removes quite easily, but you'll need to ensure that the brake lines aren't intertwined in there, so it's not a trivial task