Buyer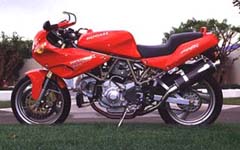 I get a lot of e-mail asking my advice about buying a Ducati, look below for my usual answers. I basically point out some observations and play devil's advocate. Don't think I'm totally knocking Ducati... I'm very passionate about Ducks (or Dukes).
I'm worried about reliablility... I always say the same thing: Don't buy a Ducati*. Get a SV1000, SV650, VTR1000 or TL-1000. You'll get V-Twin power with Japanese reliability. Right now, the excellent VTR-1000 and TL-1000S are going for cheaper than imaginable, having been "eclipsed" by "cooler" bikes like the R1, R6, TL-R, and GSXR. It takes a sick kind of person to own a Ducati. I'm one of the afflicted. Ducatis break in strange ways and the owner must be tolerant of this. And don't expect your dealer to warranty the breaks, either. A customer of my shop had to take his Ducati dealer to court to get them to pay for a rear sprocket carrier that broke. You just can't treat a Ducati like a Honda.
* UPDATE: "Don't buy an older model carbuerated Ducati." In recent years, the focus in Bologna has been on reliability, repeatability and "The Ducati Experience". With an update to the manufacturing processes, modern Ducati motorcycles are as good or better then their European and Japanese counter parts. The introduction of models like the 1098, S2R/S4R and Hypermotard have made some lasting impressions on the brand and have certainly propelled Ducati to the next level.
Just before trading my 900SS for the VTR, its frame cracked. Seems like there are a good number of occurances of SS cracked frames on the Ducati list. Seems to affect pre `98 or pre `97 SSs. Another issue are the 4V rocker arms on 748/916/996 models. I got a used 916 with 9000 miles... and right away, I found that the rocker arms were bad!
Ducati vs Japanese Twins: I had a VTR-1000 and I have to say that if I had to choose between one of these and a used, stock 900SS for commuting, I'd pick the VTR. It's fast, handles pretty well, and spanks the SS with 30+ more horsepower. Plus, the VTR I previously owned had ~27,000 miles when I sold it... all the maintenance it ever had was two valve adjustments and various oil and tire changes. And the chain/sprockets were replaced once. Because it sat a bit, I had to replace the battery. Note that it only had normal things in its near 30k miles of fun. I previously said: " There hasn't yet been a Ducati in this house which has not required corrective maintenance in that long span of time." But that's about to change, as Zina's 2000 M900ie has run like a top. Her Monster is a wonderful motorcycle.
Now consider the SV650. That's one heck of a bike. In many ways, it's comparable to the Ducati two valve 904cc motor. BUT the SV has more potential. Throw some FCR41s on one and they can get up over 80hp. Do some port work and you're knocking on the door to 90. If the industry comes up with a robust solution to the weak cranks on the SVs, they'll easily make 100.
Are Ducatis OK to commute on? If the idea of expensive scheduled maintenance isn't bad, Ducatis are great commuters. Though there are a few that break, many rack up tens of thousands of miles with no incident. The 900SS has tons of torque letting you squirt in and out of traffic. Based on my experience, I'd say that those who aren't overly abusive will get the best results. =)
Is maintenance expensive? Quite. That's why I adjust my own valves. Another reason is because it seems the service one receives from dealers is pretty ramdon in quality. If I weren't a mechanic, in `94, I would have purchased a Honda F2 instead of the 900SS. Further, I'm not sure that I trust other people to properly adjust them! Again, if you're balking at paying a few hundred dollars every 6000 miles, go Japanese. If I were in the market for a new bike right now, Ducatis certainly don't make much sense. But neither does my diseased affliction with the brand!
Is the maintenance difficult? No, not really. Shops make the valve adjustment to be some kind of voodoo black art. It's my opinion that the 2V desmo valve adjustment is trivial when compared to Japanese 600s and downright enjoyable. And this doesn't begin to consider the painful process of getting to the valves on a Honda VTR1000!! I'd rather do 2 or 3 900SS or 916 valve adjustments before one of those!
I read your page about the 1996 ~ 1998 900SS CRs; are the forks as bad as you say? Yes, and worse. They suck. As soon as you get used to your Ducati and start going fast, you'll be disappointed. You can replace them with used adjustable M/SS or Superbike forks, though this isn't quite super easy. What else can you do about them? See my SP vs CR FAQ page for info.
I can get a good used 900CR for $3500 and a SP for $4500, should I go for the SP? Wow, is this section old or what? It used to be that SPs regularly sold for $6500. Now, I've seen 916s and 748s in the $6000 range. Scary, but that means that more enthusiasts who have dreamed of being afflicted with the Ducati virus can now enjoy night sweats. I'm not going to tell you to get one bike over the next. My stand (on the CR vs SP) is clear and obvious. What really screws things up is considering the Monsters on the market as well as the ST2s tstarting to sell cheap. And the 748 and 916! It's really a buyer's market. I've even seen 996s for $9000! Besides, one should never recommend a bike that tends to break to someone else...
What's a good price to pay for ... ? Prices vary by season and locale. Something is worth what people will pay for it. Try to find comparable models for sale in your area and see what they are selling for. Of course, you'll pay less for more mileage or worse condition. $4000~4500 is fair for a 94-96 nearly stock Ducati 900 CR or SP with 10k+ miles in excellent condition. Look on the net. The Ducati list always has someone selling a Monster or 900SS for a reasonable price - especially if you consider that half their asking price was probably spent on good aftermarket mods that you would do, too!
What about Monster or SS 620 vs 750 vs 800? Now THAT is a GREAT question. It is popular opinion that the 620 injected engine makes more power than carb'd 750 and that the 620ie is on par with 750ie. I recall hearing that the 800 has wet clutch and 6 speed tranny. This makes good argument for 800 over 620 or 750. I think if I were going to get into a 2V Ducati and NOT het the 1000DS, I'd go for the 800. It's like the best of both big and small worlds. If you're in SoCal and have to do freeways, definitely get the 800.
Oh man, that new 999 is BUTT! I don't really want to hear your opinion on its looks. I don't really care that much about how a motorcycle looks. Have you seen my Pongo! ? He's pretty ugly too. I care about (reasonably) reliable transportation that feels good to ride. I care about that the 999 has won the world championship. (and hope EBoz wins on it in AMA 2004!) I kinda wish I had a 749 or 999, but honestly, since racing, I really don't think I need that bike on the street. I'd really want to take it to the track and try and highside my ass off of Willow's turn 9. So, I've already seen a 999 that was mildly crashed go for less than $10k. I'll have one soonish. Maybe that testa motor will find its way into the Pongo! ? :)
This section is all crap now... the market has sunk too much 916s are so much, are they worth it? I used to say, "Only if you must have 'the look.' That look doesn't justify the extra $6,000." That was until I got more proficient at turning motorcycles and enjoying doing such. Then I turned a 916 and thought... Wow! This thing leans! IF you're into extreme lean angles, the Superbike is the way to go. There are 916s breaking the $10k barrier. That makes the whole market go down a little bit - there are good condition used SSs going for $5k and less now.