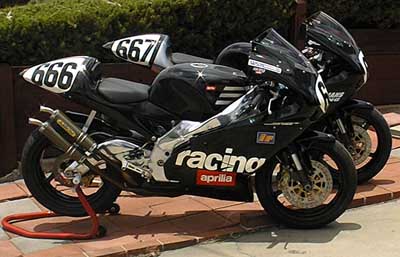 Aprilia RS250 Challenge
It's a neat bike... based on the Aprilia RS250 street bike as found elsewhere in the world (not in the US), Zero Gravity thought it would be nifty to import versions without street equipment to promote a "spec" class of racing. Zina and I are having a great time racing them. You can read about our racing adventures here.
Riding impressions Rolling around the block or in the paddock won't inspire you at all. The steering feels heavy and the way the motorcycle rotates about its axis feels a bit disturbing. Trying to get under way, you notice how weak the engine is and have to result to serious clutch abuse. Once moving, as you hear the exhaust note build and get angry, you feel the bike surge forward as the tiny motor builds to peak. Once over 8000 rpm, you really hear the "ring-a-ding" of the exhaust. If you can hear that, you're OK, if not, time to down shift and dial up some more power.
The handling is truly inspiring - and this comes from someone that was previously racing a Ducati 916! To put is succinctly, the RS can hold a very tight line given its cornering speed as compared to heavier street bikes. It flicks in lightly and is very nimble. The slightest effort you make to improve a turn has a great affect. While in a turn, if you're on line and not leaned over enough, dial up more throttle and lean more. Going off line? Hang off more and you'll be able to give it even more gas. You keep doing this until you finally explore the limits of corner speed and lean angle. I can't get over the amazing way that the RS can just get through a turn.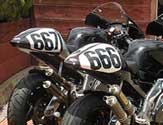 Specs well, casual observations is more accurate...
248cc v-twin 2 cycle engine
oil injection (no premixing required)
kick start
41mm Showa inverted forks
same brembo calipers as found on newer Ducatis (1998 and up)
110 or 120 width tires on 17" wheel in the front
150 or 160 tires on the rear 17" wheel
61 or so hp with stock jetting on an all stock bike
wet weight is allegedly near 320#
top speed at willow springs is 130 mph out of turn 8
cool gauges... with multifunctions, Vmax, Vavg, Temp, Battery Volts, Time, and lap timer
Both bikes came with the original MSO and were transferred via Bill of Sale and not registered with DMV
Both bikes have the original Arpilia rear stand; these work well
Rear stands had the cheesey plastic knobs replaced with M8 screws and locknuts so the width adjustment wouldn't change

Race Prep or what I've done to both of these bikes...
AIM lap timers, readout velcro'd to top triple and sensor to front fairing stay
Intuitive swingarm spool/sliders. These are for the Yamaha R6 with different M6 screws in them
Woodcraft rearsets - they kick ass
AFAM sprockets with AFAM 520OSR chains (same as DiD 520VM)
Zero Gravity windscreens to get rid of having to look through the stock screen's bloated edge
M6 stud to replace seat mount screw (very easy seat reinstall)
Yuasa GRT sealed battery so tip overs don't spill acid everywhere
N-Style Graphics numbers all around
All fairing lowers use M5 stainless hardware with 3mm hex drive
All tail section screws are M6 stainless with 4mm hex drive, wellnuts replaced with clip nuts
Kickstarter bolt replaced with longer screw with locknut and safety wiring
Velcro to hold the top of the kickstarter arm - fuzzy wrapped around where the foot goes and aggro looped around the post that the fairing bolts to
---
The [ex] pretty one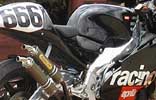 Click any for full size pic
This is Zina's current race bike. We got it from a wsmc racer that needed to focus on some other things for a while and passed it on at a great deal. I was kinda surprised he sold it and offered it up at a great price, too. It's a `99 aprilia challenge imported in `98 and is essentially all stock with Arrow pipes. It is very pretty... the original owner had the decals clear coated over and also had the white numberplates sprayed on. Oh, and they polished the frame and swingarm. While that's pretty, it sure is a pain to maintain. The OE bodywork has a bunch of fasteners and I ended up replacing 4 of them with DZUS fasteners from LP-USA. There are two screws on the inside of the fairing, one on the bottom, and one on the inner piece that are difficult to get to with a 3mm T handle. Put a plastic washer on the Dzus pin, put it through the fairing, and another plastic washer on to trap it in place. We got it with a D208 120 front and a D207 160 rear but we went ahead and tried out the D208 150 rear. Read about how that affected gearing, etc, on my write up for WSMC July racing. There's a nifty gearing chart there, too. We ended up with 15/43 gearing using the 150 rear tire.
After a few cold tire front end tucks, the pretty one isn't anymore... We ended up switching to the Pirelli Supercorsa Super Soft compound for the front tires and the crashing streak seems to have ended. Soooo, run the "soft" compound when it's hot out and the "super soft" otherwise. With the 160 Prielli Dragon Evo "corsa" compound rear tire, the gearing is 15/44.
---
The ugly one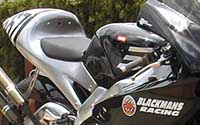 We bought this `99 RS250 first. It was raced by a CCS fast guy and was pretty dang rough. It had been crashed heavily at least 3 times, twice as each steering stop broke off and the third time trapped a bolt between the left fork tube and the frame. Niiiice. While we got it cheap, we spent another $1500 fixing it. A list of OE parts purchased to go racing: front wheel, lower right fork leg, choke lever, and throttle cable. We got Vortex clip ons for it and bummed a scuffed up tail section and front fender from a fellow wsmc racer (thanks AJ!). I was glad the tail section came without a butt pad, as my big ass needs all the room it can get. I also had to get new pipes. These came mildly ground down from their previous owner and I bought them for $300 over the internet. It sounds spendy, but no one had Arrows in stock and I couldn't ride without new pipes.

It came with amateur painted Sharkskinz. I say amateur as there are fingerprints here and there. Still better than I can do! I like the sharkskinz more than the OE bodywork as it's easier to remove and replace. It also came very bent. So bent that we ended up paying Morris at Computrack like $880 to unbend it. The lower triple could wobble like 4 mm on a flat surface and he said that the front wheel was 4 degrees off vertical! Then, Zina and I put like 40 or 50 hours into rebuilding, restoring, and cleaning it. The pic of her below shows her helping out by cleaning up my 916 fairing.

The folks working on it before seemed to really eff things away... like the power valve cables were so tight that one of them broke on me during a 20 lap Saturday race. I went ahead and did a tear down and found that a circlip also fell out and was scraping along the cylinder. Oh, and you'll notice in the "2 strokes are simple" pic above that the plastic cross piece that holds the throttle cable drum and the power valve servo and drum is broken. Yup, it is supposed to have tabs that bolt to the frame. We don need no stinkin tabs. Other ugliness includes battery acid spilled all over the subframe and on the right side of the frame and swingarm (hence the sealed batteries on our bikes). Careful observers will notice that there's a lot of room between the end of the throttle grip and the bar end... that's because the throttle tube was severely smashed and I trimmed it back.

I'm currently running Pirellis as Dunlops cost a little more and they don't pay in any classes we run with WSMC. Pirelli has a killer "SC-1" super corsa front tire. It grips very well and seems to have insane longevity. Unfortunately, they don't have a killer rear tire yet and I'm stuck with the "normal" street tire, the Dragon Corsa Evo. The rear is a 160/60, but the rubber goes off long before the tread is used up. I got about 300 miles on a 3 day race weekend and the following month, the rear just squirreled around everywhere. I've been told that the killer rear isn't expected for a few months. At Willow, I run 14/41 gearing and pull a top speed of around 130 while doing 1:35s. I'm thinking of trying 14/42 to see if I can pull a higher speed through 8-9, but I'm a touch worried about over revving. We'll see.



Click any for full size pic
---
WSMC prep
There are like 16 coolant hose clamps... They come from the factory with the "crimp" style clamps, too. I don't think these are legal as there's no way to safety wire them. Each teardown should result in more and more of these replaced with the gear driven automotive style clamps. Anyway, the side hose to the cylinder of the top (or left) cylinder is a real pain to do. Loosen the clamp and slide it out, wire it with like 10 miles of extra wire, then slide back to place, tighten, and finish wiring. There are 2 coolant system bleeds; one on the radiator and one on top of the water pump. There are also 2 coolant drains, one on each cylinder.

You'll notice a suspicious bolt on the bottom of the motor behind the right cylinder: ignore it, case bolt with no fluids behind it. You need to wire the tranny filler to the inspection hole to the drain bolt.

Then the obligatory chassis stuff: caliper mount bolts, axle nuts, and front axle pinch bolts. I try to drill most fasteners 3 times, so orientation doesn't matter. Both bikes have marks on the slotted rear axle saying which way goes forward to align the single drilled hole to wire the nut correctly. I wire the nuts to the chain tensioning bolts. I've seen them wired to the exposed axle slot at the back of the swingarm, but this doesn't work if the chain tension requires the chain adjuster plates to cover these slots.

I also installed a gear drive clamp to replace the large clamp coming out of the bottom of the oil injector tank. There doesn't seem to be any way to do the two tiny clamps on the in line filter housing and hose. I used some .020" wire to act as "rope" to help keep from losing the R clips that hold the side fairings on.

I suggest safety wiring all the screws, nuts, bolts, etc that hold the silencers on. In the July event, the OEM silencers on "the ugly one" delaminated from the end caps and the baffles were really wobbly. Every piece of hardware was wired, so nothing fell off (like when someone's whole damn baffle fell off in front of me once!). Silicon will work to some extent if you're too lazy to drill.