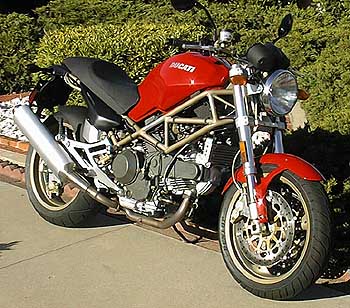 It all started with the MH900e being delayed indefinitely. Then Zina's 900CR was unrideable while waiting for some parts. Added to the Ducati frustration, Zina took the 916 for a weekend ride and it left her stranded! The 916 regulator failed and the battery fully drained. Sooooo, off she goes looking at new Monsters.

For more details about different Monster models, please read the ducatitech.com Monster FAQ.

To read Zina's impressions and a list of mods on this Monster, please visit Zina's Pogo files. She's name her favorite motorcycle ever (until the 999) after Manuel Poggiali, the 125GP champion.

What follows are my initial impressions of the Monster in stock form...