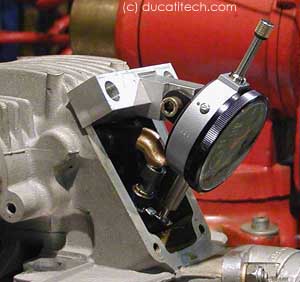 Now, fix your dial indicator and ensure the valve is closed (TDC) and set the degree wheel's zero. Here, Guy gave me specific information as part of his "recipe". Actually, some may note a change on this info from earlier. We talked again and we clarified the routine. Put a feeler gauge in between the opening shim and rocker arm to take up the slack caused by shim clearance. Turn the engine, note the angle when there is .040" of lift on the intake valve - this will determine the degree values of opening and closing. We talked about the lift numbers and you can use either .030" or .040" - it doesn't really matter as we are computing theoretical lobe center.

The desired location for top end power is 105~107° lobe centers. These numbers below were taken after I checked squish (talked about below). This is the first step of the circular process and the numbers here are from the final step.

On the F cylinder, I got opens at 31° BTDC and closes at 70.5° ABDC. Now, Guy gives me cookbook recipe to find lobe center (assuming concentricity)...

With STM pulley at "CW+1" position, or advanced 2 degrees:
31 + 180 + 70.5 = 281.5
281.5 / 2 = 140.75
140.75 - 31 = 109.75

Note that in the above areas, the underlined portions could be done via a spreadsheet or calculator. In fact, you can do something of short hand notation. I actually made an Excel spreadsheet so I could take notes on a laptop computer while measuring the values. Here are notes from the vertical cylinder:

STM @ +6 CW: 29   + 180 + 70 = 279   / 2 = 139.5  - 29    = 110.5
STM @ +7 CW: 30.5 + 180 + 68 = 278.5 / 2 = 139.25 - 30.55 = 108.75

What you'll notice is that the two cylinders' cams differ by some 12 degrees. There is a lot of opportunity for slop in the system besides manufacturing tolerance... There are 2 pulleys for each cylinder, each with their own woodruff keys, which allow for shifting. Also, when installing a new pulley nut, I've found that this can retard the cams by 2 degrees as compared to using an old nut to torque the pulley. When switching from a "tired" used pulley nut to a fresh one, there is noticeable difference in tightening force. Not torquing the nuts is another 2° difference, so you can't try to cheat and save time that way! Another observation to be made is how the vertical cylinder is "only" able to be advanced to 109°. This limits the front cylinder to 109° instead of the more optimal 105° to 107° that we would otherwise adjust to.

Also, when rotating the engine, only turn the engine forward. I have observed 2°~4° variation if you go past your lift mark and then rotate the engine backwards and then go forward again to find the mark. I believe this to be due to the gear lash between timing layshaft gear and the crank drive gear. With no belts installed, I noticed that the timing shaft could shift back and forth noticeably. When taking measurements, I would take a series of 3 or 4 open+close lift values to ensure the numbers are good. This is where the laptop computer and the Excel spreadsheet with a little math helps a LOT. Doing lots of measurements and getting a feel for the process also helps your confidence when reading the values. Better accuracy can be had with a larger diameter degree wheel. For this build, I am using the same K&L degree wheel that I sell. I think it is at the lower limit for size... just large enough to get the job done.